Dances, Dragons & Magical Lakes: Bali to Komodo
Aboard Katharina or Ombak Putih
March – August, 2019
Overview:
Discover mighty dragons and rich marine life on a private cruise through Indonesia's Lesser Sunda Islands from Bali to Flores, visit remote beaches, quiet coastal villages, jungle-clad mountain ranges, volcanoes, rivers, waterfalls, a mysterious lake, and the legendary Komodo Dragons. This adventurous, eight-day inclusive voyage of discovery aboard with the luxury phinisi vessel 24-passenger Ombak Putih or the 12-passenger Katharina.
Brief Itinerary:
Day 1: Sanur (Bali) to Amed / Tenganan Village
Day 2: Amed / Embark Ship / Cross the Lombok Strait / Gili Islands
Day 3: North Lombok / tour of village of Senaru / Coral reef exploration near Gili Sulat
Day 4: Island of Moyo / Diwi Mba'I Waterfall / Satonda
Day 5: Wera / Island of Banta – Komodo National Park
Day 6: Komodo Island / Loh Liang
Day 7: Loh Buaya on Rinca Island
Day 8: Labuan Bajo / Disembark Boat
Interested in more information? Please contact Expedition Easy by calling 1-800-617-2319 or click here to e-mail the Expedition Easy Team.
Dances, Dragons & Magical Lakes: Bali to Komodo
Aboard Katharina or Ombak Putih
March – August, 2019
Day-by-day Itinerary:
DAY 1 – SANUR (BALI) TO AMED / TENGANAN VILLAGE
In the morning we will all meet at a café in South Bali for a quick breakfast before boarding our minibus for our destination of Amed in the eastern regency of Karangasem – an exotic royal Balinese kingdom of forests and mighty mountains, emerald rice terraces, mystical water palaces and pretty beaches. With our tour leader providing information along the way, we will stop at Tenganan Village, a community that still holds to the ancient Bali Aga culture with its original traditions, ceremonies and rules of ancient Bali, and its unique village layout and architecture. We'll also visit the royal water palace of Tirta Gangga, a fabled maze of spine-tinglingly cold water pools and basins, spouts, tiered pagoda fountains, stone carvings and lush gardens. The final part of our scenic journey takes us through a magnificent terrain of sculptured rice terraces followed by spectacular views of a fertile plain extending all the way to the coast.
DAY 2 – EMBARK SHIP / CROSS THE LOMBOK STRAIT / GILI ISLANDS
We will wake in the morning at the resort, have a leisurely breakfast and maybe an early morning swim or snorkel before being transported the short distance to the boat, which will be waiting at anchor in the bay. After we board the vessel you will have a chance to settle in before the captain gives the orders for the anchor to be lifted prior to crossing the Lombok Strait. This deep trench of water between Bali and Lombok marks part of a very important ecological boundary called the Wallace Line, which was first described by Sir Alfred Russel Wallace, the renowned Victorian naturalist. Wallace noticed that the flora and fauna of the islands to the west are home to Asiatic animal and plant species, whereas the islands to the east of the invisible line have a greater similarity to species found in Australia. In the afternoon, we will make our first stop at one of the three Gili islands, a popular holiday destination just off Lombok's northwest coast. We will spend a few hours here, during which time you can choose from a number of water activities: swimming, snorkeling, paddle boarding, kayaking, or simply enjoying the beautiful white-sand beach.
DAY 3 – NORTH LOMBOK / TOUR OF VILLAGE OF SENARU / CORAL REEF EXPLORATION NEAR GILI SULAT
Moored off the coast of North Lombok, we will enjoy a hearty breakfast before going ashore and boarding a private bus for a trip into the interior of the northern side of the island and the traditional village of Senaru. Here, we will be taken on a tour, by one of the local women-guides, of the simple thatched houses and gardens of fruits and spices, which will give us an insight into the culture of the indigenous Sasak people. Our mellow adventure will then lead us down a well-trodden flight of steps through the tropical forest to Sindang Gila, a roaring 40-metre tiered waterfall. The small gravel beach and flat rocks at the base of the falls are a meeting place for the local people, and if we want we can take a dip under the full force of the intense flow. Our walk will continue alongside an old irrigation canal offering panoramic vistas of rice fields stretching towards the sea. The area around Senaru and Bayan was the birthplace of Lombok's unique Wektu Telu belief system in which ancient animist practices are combined with Islam. If we have time, we will visit Bayan Beleq, a grass-roofed mosque with woven bamboo walls. Said to have been founded in the 16th century, this is the oldest mosque in Lombok. We will also see some weavers and spinners demonstrating their age-old skills. After re-embarkation, we will explore one of the coral reefs near Gili Sulat, which is a marine conservation area.
DAY 4 – ISLAND OF MOYO / DIWI MBA'I WATERFALL / SATONDA
This morning we will moor off Labuan Aji village on the island of Moyo, visit the village and then walk to Diwu Mba'i waterfall, where can swing on a rope and jump into the deep clear river pool below, or simply bathe in the refreshing cool water. Our next stop will be Satonda, a strange and mystical volcanic island with a sunken crater lake in its center that was filled with saltwater when the nearby Mt Tambora erupted in 1815, causing a tsunami that flowed into the crater. The eruption was the biggest volcanic explosion in the collective memory of mankind; it had roughly four times the energy of the 1883 eruption of Krakatoa, and gave rise to the 'year without a summer' because of the effect on North American and European weather. Local people believe Satonda to be magical, and with this in mind, we will walk to the lip of the caldera to view the mysterious lake, alongside which are trees believed to be 'wishing trees.' Visitors to the island tie a small stone to a tree and make a wish. If your wish comes true, you are bound to return to the island to offer thanks. The seas surrounding the island are rich with soft and hard corals and colorful tropical fish, so we will spend the afternoon swimming and snorkeling. Another highlight of our visit to Satonda will be the sight of thousands of flying foxes that commute at dusk from the island to feed on the mainland, returning before first light the next day. Immediately after sunset, we leave for an overnight passage on a course due east.
DAY 5 – PULAU SANGEAN / ISLAND OF BANTA – KOMODO NATIONAL PARK
We will wake up off the coast of Pulau Sangean, an active volcano that towers 1,800 meters above sea level. After breakfast, we will go ashore to a small hamlet, which, because of the active nature of the volcano, is only inhabited for short periods during the year when the local people come to tend their crops and small herds of buffaloes, which we can see swimming in the sea. Luckily for us, the local community of boatbuilders on the mainland has started construction of a brand new and very large pinisi boat on the beach at Sangean Village. We will have the opportunity to see the process that built the Ombak Putin in action; truly an impressive sight and a marvel of engineering. We will then snorkel on both a nearby reef and a location on the north of the island where volcanic gasses escape in the form of bubbles from the sea floor among the corals, a most interesting sight. We will then proceed to the island of Banta and its pure white sand beach, for an afternoon of swimming, snorkeling and hill climbing for the fit. Later that evening we proceed on to Komodo dragon country.
DAY 6 – KOMODO ISLAND / LOH LIANG
When we wake up, the boat will be anchored off the famous Komodo Island, one of approximately 80 islands that make up the Komodo National Park. We will go ashore at the ranger station in Loh Liang for an early morning ranger-led trek through the park searching for Komodo dragons. In this savannah-like setting of dry, rugged landscape, we will encounter, at a safe distance, these awe-inspiring, giant lizards – Indonesia's living dinosaurs. We may spot deer, wild boar, sulphur-crested cockatoos, butterflies, rare orchids and jungle chickens among the strangle-fig trees and the distinctive lontar palms. After returning to the onboard we will cruise around the coast and visit Komodo village, where we can buy some local handicrafts. Later we may head to Pantai Merah 'red-beach,' which takes its name from the particles of red coral mingled with the sand. Here we will swim and snorkel over one of the richest reefs in Eastern Indonesia, relishing the unforgettable spectacle of the region's many varieties of coral and marine life. Later, we will head to Makassar Reef, where we will look for manta rays, and if we spot them, we will go snorkeling with these gentle giants. We will then head to Gili Lawa Darat for some more snorkeling and a hill climb to watch a magical sunset.
DAY 7 – LOH BUAYA ON RINCA ISLAND
Today we will visit the ranger station of Loh Buaya on Rinca Island where we will have another ranger-led nature trek in search of more Komodo dragons, which are indigenous to this small group of islands. Rinca is also well known for its diverse wildlife, so we may spot monkeys, wild buffaloes and deer as well. From the top of the hills, the scenery is breathtaking. In the afternoon, we can go snorkelling on the beautiful Siaba Island, before perhaps visiting the lovely Kelor Island. We will also have the option of visiting the adjacent island of Kukusan where we will meet a settlement of 'sea-gypsies,' the Bajao people who build their homes on stilts over the sea. That evening we will go ashore to an uninhabited island and get our toes in the sand for a final night's beach barbeque. With a raging bonfire, great food, dancing and the crew singing and playing guitars, this end-of-cruise celebration under the stars is a quintessential SeaTrek experience.
DAY 8 – LABUAN BAJO / DISEMBARK BOAT
For those early risers, we will have time for one last swim and snorkel, before cruising into Labuan Bajo harbour. At about 9am we will leave the boat for a trip to the village of Melo. Here, local 'strongmen' will perform the 'Caci,' a ritual whip-fight between two rivals in which the players, each armed with a rattan shield and a whip, will try to hit each other while dancing to the rhythm of traditional acoustic instruments. The men of Western Flores are famous for this test of daring and skill, requiring lightning quick moves to dodge the infliction of a wound. The winner is loudly applauded and cheered by the village. Besides this, the cultural group will also showcase other traditional dances. After the performance, we will have lunch on the boat before transferring you to the airport for your flight back to Bali.
*Please note: This itinerary is subject to change. In the spirit of expedition travel, plans may change slightly to take full advantage of encounters with the destination and its people, culture, and wildlife.
Seatrek-SD2019
Dances, Dragons & Magical Lakes: Bali to Komodo
Aboard Katharina or Ombak Putih
March – August, 2019
Vessel:
The Katharina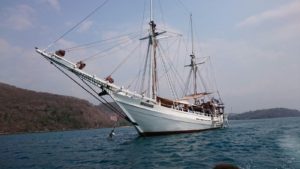 The Katharina is a traditional Indonesian pinisi, built in 1995 in Kalimantan using only the very best grades of ironwood. Her slim hull was originally being planned for commercial sailing carrying freight before we spotted her in the making. We bought her and fitted her out as a cruising vessel, and then again in January 2014, the Katharina was the subject of a major interior refit. Working with the unique heritage this vessel represents, her transformation is a conservation exercise back to authenticity, using only the best traditional materials, shaped by highly skilled Indonesian craftsmen. Yet, what goes on behind the scenes is the use of the most up-to-date technology and she is now equipped with a super yacht grade AC station and we are optimizing our systems to the latest safety standards.
Not only is the Katharina very elegant on the water, she is also fast becoming a classic yacht, as very few of these original designs remain. Katharina's overall length is 40 metres, providing comfortable accommodation for up to 14 guests in six cabins located below decks. All cabins offer creature comforts and necessary amenities including double beds or twins, private en-suite bathrooms, natural light, safety boxes, individually controlled air-conditioning and storage space
including a safe.
Led by Captain Iwan, the Katharina is catered to by an all-Indonesian crew of 12, with each member dedicated to making your stay aboard truly memorable.
Services Profile
• Spacious twin-share cabins with twin bunks or double beds
• Each cabin has a private bathroom with toilet and hot shower
• Washbasin and toiletries provided in your cabin
• Each cabin has individually controlled air conditioning
• Towels and beach towels provided and regularly changed
• Each cabin has a mini safe for valuables and travel documents
• Free tea, soft drinks, juices, coffee and mineral water
• Excellent food and snacks (vegetarian and special menus on request)
• Fine selection of wines, beer and spirits for sale
• Professional cruise directors
• Outdoor sleeping facilities
• Complimentary snorkeling equipment and two sea canoes (add SUP)
• Television, DVD and music centre in lounge
• Dining in spacious air conditioned lounge
• Teak wooden furniture in lounge, cabins and on deck
• Spacious sun and semi-covered decks
Ombak Putih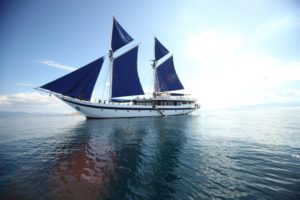 Led by Captain Agung, with a crew of 14, Ombak Putih means 'White Wave' in the Indonesian language. Her keel was first laid down in Kalimantan in 1995, and she became operational in 1997. At 42 metres long, she is the larger of our two ships, providing accommodation for up to 24 guests in 12 comfortable cabins. Approximately 400 square metres of public space is divided over her two main decks, including a large salon, as well as covered and open areas, allowing plenty of room for our guests to spread out, relax, and enjoy as much company or solitude as they wish.
SLEEPING CONFIGURATION
6 x double bed cabins
2 x triple cabins (one double bed & one upper single bunk – bunk ideally suitable for child 12 or under)
4 x twin bunk cabins (one above the other)
Dances, Dragons & Magical Lakes: Bali to Komodo
Aboard Katharina or Ombak Putih
March – August, 2019
Rates:
March – August, 2019
– Approx $3,210.00 per person sharing
Please enquire with Expedition Easy for Single Supplement Rates.
Rates are based on per person sharing and are approximate until the time of booking. Rates are quoted in USD and subject to change without prior notice due to circumstances beyond our control; i.e. fuel increases, currency fluctuations, etc.
Flights:
International Air Not Included.
Note: 'Dances, Dragons and Magical Lakes: Bali to Komodo' travels outbound from Bali to Flores; guests meet the ship in Bali and later return to Bali by air from Labuan Bajo in Flores. The airfare is not included in the cruise price.
Rates are approximate until the time of booking. Please note rates are subject to change without prior notice due to circumstances beyond our control; i.e. fuel increases, currency fluctuations, etc. Airfare prices are subject to change until booked and ticketed
Included:
– All meals during the cruise
– Tea, Coffee, Soft Drinks, Mineral Water
– Excursions listed in the itinerary
– Park Fees
– Towels, Use of Snorkeling gear, stand-up paddles, sea canoes and all water sports equipment
– European or multilingual tour guide
– Transfer to and from the ship in all harbors (except Bali)
– Transfers to and from the ship in Bali will be in our meeting point: Café Batu Jimbar
Not Included:
– Domestic Airfares
– Alcoholic beverages
– Gratuities
– Travel & Health Insurance
– Passport & Visa Fees
– Travel medications and vaccinations
– personal items such as souvenirs
– All other items not indicated as included in the itinerary
Deposit & Payments
A completed & signed Expedition Easy Reservation Form, along with your 25% trip deposit and full regional and/or domestic air payment (if applicable) is required at the time of booking.
Reservations
This itinerary is subject to the availability of all services at the time of making a reservation. No space is being held at this time. Please contact Expedition Easy for the full terms and conditions that apply. We are happy to answer questions and discuss your trip.
To reserve space on a trip on the Expedition Easy website, please contact Expedition Easy by calling 1-800-617-2319 or click here to e-mail the Expedition Easy Team.

Multiple departures March - August, 2019

Contact Expedition Easy with preferred dates of travel
Tweet