Northern/Western Galapagos with Jack Grove
Route B
September 23 – 30, 2018
Overview:
Travel in the company of an expert marine biologist and photographer – in addition to our naturalist guides. Enjoy evening lectures over "turtle hour" presented by Jack Grove. Guest will also participate in daily observations of fish behavior and identification directed by Jack in addition to all the scheduled daily activities.
Passengers will also receive a personalized copy of The Fishes of the Galápagos Islands, signed by Jack. This is a first edition hard copy book and they are close to being sold out. Limited quantities are available for those who sign up for the cruise first before our supply runs out (one per couple or cabin) and will be sent to your home 60 days prior to the cruise departure.
A cruise to the Enchanted Isles is a once in a lifetime, wildlife mecca for adventure travelers. Highlights on this northern Galapagos "B" route with the M/V Origin include:
• Lumbering giant tortoises in the highlands
• Viewing red footed and Nazca boobies
• Observing small marine and large land iguanas
• Snorkeling opportunities with Galapagos penguins
• Studying volcanic formations
• Seeing flightless cormorants in action
• Kayaking in small bays and coves
• Sighting whales and dolphins
You can also increase your coverage of the islands by combining this northern Galapagos "B" route with the southern Galapagos "A" route on the Origin and save 5% on both routes!
Brief Itinerary:
Day 1: San Cristobal Island, Embark The Origin
Day 2: Darwin Bay & Prince Phillip's Steps, Genovesa Island
Day 3: Las Bachas & Cerro Dragon, Santa Cruz Island
Day 4: Punta Vicente Roca & Urbina Bay, Isabela Island
Day 5: Punta Espinosa, Fernandina Island & Tagus Cove, Isabela Island
Day 6: Rabida Island & Black Turtle Cove, Santa Cruz Island
Day 7: Highlands of Santa Cruz Island & Breeding Center at Charles Darwin Research Station, Santa Cruz Island
Day 8 (Sunday):Disembark the Origin & Visit Interpretation Center on San Cristobal Island, transfer to San Cristobal Airport (SCY)
The Origin alternates two different full week 7-night itineraries as required by the Galapagos National Park in an effort to better reduce usage on heavily visited sites.
Interested in more information? Please contact Expedition Easy by telephone at 1-800-617-2319 or e-mail info@expeditioneasy.com.
Northern/Western Galapagos with Jack Grove
Route B
September 23 – 30, 2018
Day-By-Day Itinerary:
DAY 1 – Sunday, September 23, 2018 – GUAYAQUIL / SAN CRISTOBAL, GALAPAGOS
Upon arrival at Puerto Baquerizo Moreno, crew from the Origin is waiting at the airport to escort you by bus to the main dock and then by zodiac to your yacht anchored in the bay. After the welcome briefing and safety drill, a delicious buffet lunch is served.
In the afternoon, travel to Cerro Colorado to visit Centro de Crianza Jacinto Gordillo (La Galapaguera) where the national park has established a breeding program for giant tortoises in their natural habitat. At the visitor center, learn about the origin and evolution of tortoises, as well as threats from introduced animals. Along the trail, watch for the San Cristobal mockingbird and Calandrinia plant, both endemic to this island. Return to the Origin for a briefing followed by our Captain's welcome cocktail party and dinner prepared by culinary school-trained chefs.
DAY 2 – Monday, September 24, 2018 – DARWIN BAY / PRINCE PHILIP'S STEPS, GENOVESA
Enjoy your first shipboard breakfast before spending the entire day on Genovesa (aka Tower) Island, one of the most spectacular places in Galapagos for bird species. Land at Prince Philip's Steps, where red-footed boobies nest in palo santo trees, Nazca boobies nest near the trail, and storm petrels gather in large numbers in an open lava field. With luck, you may see the elusive short-eared owl. Return to the Origin for a BBQ lunch on the sun deck. Chose to paddle from a kayak or stand-up paddle board and explore the cliffs. Look for the red-billed tropic bird hiding in the crevices or snorkel in deeper water from the Zodiac.
Land at Darwin Bay, a coral sand beach where swallow-tailed and lava gulls gather near the tide pools. Enter a forest of Optuntia cactus and mangroves where colonies of great frigatebirds nest, the males inflating their red-throated pouches to attract females as they fly overhead. Chose to relax on the beach or swim with sea lions in these northern warmer waters. Return to the yacht for a briefing followed by dinner and an evening full of stars.
DAY 3 – Tuesday, September 25, 2018 – LAS BACHAS / CERRO DRAGON, SANTA CRUZ
This morning's breakfast is followed by visiting Las Bachas (The Barges) on the northern side of Santa Cruz (aka Indefatigable) Island. Explore the long stretch of a soft white sand beach and interior lagoons populated by greater flamingos. There is also a chance to snorkel here from the beach. Return to the yacht for lunch.
This afternoon, step ashore on Cerro Dragon (Dragon Hill) for a majestic view of the bay and the island landscape covered in opuntia cactus, palo santo and muyuyo (Cordia letea). The trail also offers excellent opportunities to see Darwin's finches, Galapagos flycatchers, yellow warblers, Audubon shearwater, as well as the endemic land iguanas, that were once part of the Station's breeding program. In the saltwater lagoon, pink flamingos feed alongside other birds such as stilts, pintail ducks and sandpipers. After the briefing and dinner, sail toward the western islands and cross the equator for the second time.
DAY 4 – Wednesday, September 25, 2018 – PUNTA VICENTE ROCA / URBINA BAY, ISABELA
After breakfast onboard, this morning's visit is a Zodiac ride to Punta Vicente Roca, offering an incredible view of the tuff walls and an entrance to a wave-sculpted cave. There is an excellent chance to snorkel here and find penguins and sea turtles that frequent this area. During lunch, sail through the Bolivar Chanel. Then take a seat on deck to view the dramatic scenery and watch for whales and dolphins riding the bow wave, and occasionally the Mola Mola, an odd looking giant sun fish.
Disembark at Urbina Bay on Isabela Island, where four miles of coastal seabed were exposed due to a dramatic uplift during a volcanic eruption in 1954. See the remnants of coral skeletons, some of them waist-high, and keep an eye out for the very large and colorful Galapagos land iguanas, as well as marine iguanas, Darwin's finches, brown pelicans, flightless cormorants, and the occasional giant tortoise. Return to the Origin for briefing and dinner. A sky full of stars beckons to go on deck and observe the galaxy.
DAY 5 – Thursday, September 26, 2018: PUNTA ESPINOZA, FERNANDINA / TAGUS COVE, ISABELA
Breakfast is followed with a stop at Punta Espinoza on Fernandina, the youngest and most pristine island in the Galapagos, with no introduced animals. Recent lava flows formed by an active volcano stretch their way around the coast. Observe sea lion harems with resident bulls carefully guarding their territory, and hundreds of marine iguanas, the largest colony in Galapagos, basking in the sun along the rugged shoreline. Out on the point, the flightless cormorants build their nests close to shore since they lost their ability to fly. There is a chance to snorkel here with large sea turtles that frequent this area before returning to the Origin for lunch.
Go ashore on Tagus Cove, a favorite anchorage for pirates and whalers over the centuries. Sections of the rocky cliffs are covered with graffiti dating back to the 1800s. An uphill hike leads to a saltwater lagoon and a scenic overlook with a spectacular view of the ocean, lava fields and volcanic formations. Take advantage of the secluded cove and explore the shoreline by kayak in search of Galapagos penguins, boobies, pelicans and other seabirds. Return to the Origin for briefing and dinner as you cross the equator for the last time.
DAY 6 – Friday, September 27, 2018 – RABIDA / BLACK TURTLE COVE, SANTA CRUZ ISLAND
After breakfast, disembark on Rabida (Jervis), a small island considered the geographic center of the Galapagos because its volcanic rocks are the most diversified in the archipelago. The dark red color of the beach comes from the high iron content in the volcanic stones. Follow the trail to a saltwater lagoon where greater flamingos migrate, keeping an eye out for marine iguanas, mockingbirds, yellow warblers and Darwin's finches. Afterwards, do not miss the opportunity to snorkel with a colony of sea lions and rays. Return to the Origin for lunch.
This afternoon, there is a Zodiac ride at Caleta Tortuga Negra (Black Turtle Cove) through a series of coves and inlets surrounded by mangroves. View pairs of mating sea turtles (Sept to Feb), white-tipped reef sharks and golden cow-nosed rays. Return to the Origin for the Captain's Farwell cocktail party and dinner as well as a special slide show presentation by your guides.
DAY 7 – Saturday, September 28, 2018 – PUERTO AYORA & HIGHLANDS, SANTA CRUZ
Breakfast onboard is followed by disembarking at Puerto Ayora, Santa Cruz, the social heart of the Galapagos, with a population of 24,000. Travel by bus to the highlands, passing through all seven vegetation zones found in Galapagos. Visit a tortoise reserve at one of the private farms that protects giant tortoises in their natural habitat. Stop at "the tunnels", the largest lava tubes found in Galapagos and visit Los Gemelos (The twins), a pair of large craters. Return to the yacht for lunch on board.
This afternoon, visit the Centro de Crianza Fausto Llerena (formerly the Charles Darwin Research Station). Visit the tortoise corals and the breeding center with hatchlings and miniature tortoises that will be repatriated when grown. Visit the new exhibit honoring Lonesome George, a worldwide icon of conservation as the last surviving tortoise from Pinta Island that tragically died of natural causes. Stroll through town to shop for souvenirs or stop at an internet cafe. Return to the yacht for dinner or, if you wish, remain in town for dinner on your own. Zodiac shuttles from the yachts to the main dock will be offered throughout the evening.
DAY 8 – Sunday, September 29, 2018 – SAN CRISTOBAL / GUAYAQUIL
After breakfast, disembark the Origin and travel by bus to the San Cristobal Interpretation Center to learn more about the natural and human history of the Islands. Afterwards, spend time in port before heading to the Puerto Baquerizo Moreno airport (SCY)
*Please note: This itinerary is subject to change. Expedition highlights and wildlife listed here are possible experiences only and cannot be guaranteed. Your Expedition Leader and Captain will work together to ensure opportunities for adventure and exploration are the best possible, taking into account the weather, wildlife activity and overall conditions.
ECO-SD2018
Northern/Western Galapagos with Jack Grove
Route B
September 23 – 30, 2018
About the Ship
M/V Origin
Custom-designed for sustainability and comfort, the Origin is the ultimate Galapagos cruise vessel, offering luxurious amenities while minimizing environmental impacts. Every element of this 20-passenger luxury yacht has been specially designed for comfort, safety and sustainability. The 10 staterooms are roomy and inviting, with large windows, private bathrooms, and plenty of storage space. An elegant dining room features marble table tops, with configurations from two to 10 guests for private or group dining. Lunch is generally served al fresco on a spacious sundeck, which is equipped with day beds, chaises lounges, tables, hammocks, a four-person Jacuzzi, outdoor shower and a wet bar. An intimate indoor bar is always open for hand-crafted cocktails, wine, beer, sodas, juices, coffee, and tea. Interior social areas include a comfortable lounge for evening gatherings and general relaxation, and a cozy library stocked with books on the Galapagos and Darwin. A public computer is provided for guest use. The Origin also has a boutique offering high-quality local handicrafts, sundries, and gift items, as well as a fitness center equipped with a treadmill, elliptical, free weights, yoga mats, and more. The experienced 14-member Ecuadorian crew includes a high-level captain, a full-time concierge, and two expert naturalist guides – one for every 10 guests, the lowest ratio in the Galapagos.
Technical Specifications
Type: Luxury class motor yacht
Year Built: 2016 specifically for Galapagos cruising
Capacity: 20 exclusive guests in ten double/twin cabins
Crew: 14 including Captain and two naturalist guides
Cruising Speed: 12 knots
Length: 142 feet / 43.5 meters
Beam: 27.5 feet / 8.5 meters
Certification: Passenger Ship Safety & Management Certificates (SOLAS)
Registry: Ecuador
Northern/Western Galapagos with Jack Grove
Route B
September 23 – 30, 2018
Rates:
Cruise Rate: $7,850 per person double occupancy per week
Please note: We suggest that all passengers traveling to Galapagos allow two nights in mainland Ecuador prior to their cruise (not included) to allow for potential flight delays and misconnection. This is particularly important for passengers traveling over holidays when flights are more likely to be overbooked and delayed caused by bad weather conditions. Passengers who miss the flight to Galapagos on Sunday morning will not be able to meet up with the yacht until later in the week provided seats are available and will need to hire a private speedboat (at their own expense) to transport them to the vessel. Delivery of delayed baggage can be arranged during the cruise for an additional cost of $40 for up to 3 pieces of luggage. We highly recommend passengers purchase a comprehensive travel insurance policy to protect their travel investment from any potential loss.

COMBO SAVINGS:
– Combine this Origin northern "B" itinerary with an Origin southern "A" itinerary and receive a 5% savings on both consecutive back-to-back itineraries!
GALAPAGOS PARK ENTRANCE FEE & TRANSIT CONTROL CARD PER PERSON:
The following government required taxes and fees are NOT included in any of the comprehensive package or cruise only rates above. Expedition Easy will add these to your invoice so that they will be prepaid for you upon arrival.
– Galapagos Entrance Fee: $100 for adults and $50 for children age 11 and younger
– Transit Control Card: $20 for each visitor to the Galapagos
The above costs are subject to change at any time until day of departure.
All rates are approximate until time of booking. Rates are quoted in USD and subject to change without prior notice due to circumstances beyond our control (ie fuel increases, currency fluctuations, etc).
Flights
International flights in and out of Guayaquil (GYE) are required and not included. Expedition Easy can book these flights for you upon request.
Domestic scheduled flights between Guayaquil (GYE) on mainland Ecuador and San Cristobal (SCY) in the Galapagos are also required and not included. Expedition Easy will book these flights for you and add them to your invoice as follows.

GUAYAQUIL (GYE)/SAN CRISTOBAL (SCY)/GUAYAQUIL (GYE) FLIGHTS PER PERSON:
– $443 for adults and $275 for children age 11 and younger
Above airfares include all airport taxes and airfare fuel surcharges. Airfares are subject to change at any time up until the day of departure and even after tickets have been paid in full.
Included:
Cruise accommodation, all meals and snacks, all beverages including open bar, 24/7 Espresso, coffee and tea, Captain's welcome and farewell party, evening cocktail hour and lectures, concierge services, guided shore excursions, use of wet suits, snorkeling equipment, kayaks, stand up paddle boards, transfers between the airport and dock in Galápagos.
Not Included:
International airfare, airfare to Galápagos, National park entrance fee ($100), transit control card ($20), premium alcoholic beverages, gratuities to guides and crew, purchases on board in our boutique and travel insurance (recommended). Overnights in hotels in Ecuador prior to cruise. Meals prior to cruise. Travel & Health Insurance. All destination arrival and departure taxes. Passport and visa fees. Travel medications and vaccinations, Personal items and services such as souvenirs, drinks, laundry, phone calls, etc, All other items not indicated as included or in the itinerary
Deposit & Payments
This itinerary is subject to the availability of all services at the time of making a reservation. No space is being held at this time. Please contact Expedition Easy for the full terms and conditions that apply. We are happy to answer questions and discuss your trip.
Reservations
To reserve space on a trip on the Expedition Easy website, please contact Expedition Easy by telephone at 1-800-617-2319 or e-mail info@expeditioneasy.com.
Northern/Western Galapagos with Jack Grove
Route B
September 23 – 30, 2018
Jack Grove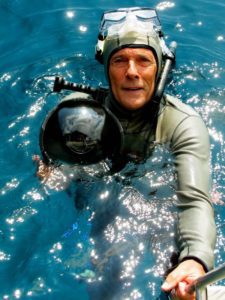 A marine biologist and professional naturalist, Jack has spent much of the past two decades traveling on, and lecturing about, the world's oceans. Jack is a leading authority on the fishes and marine environments of the eastern tropical Pacific. For more than twenty years he was a research associate in the Section of Fishes at the Los Angeles County Museum of Natural History. For seven years, he lived in the Galápagos, where he served as an associate investigator for the Ecuador's National Fisheries Institute, and was senior author of the only Ecuadorian publication on Galápagos fishes.
He continues to carry out extensive marine biological studies in this UNESCO World Heritage Site today. In 1997, Stanford University Press published his comprehensive volume The Fishes of the Galápagos Islands, and he received his Ph.D. from Pacific Western University.
A true adventurer, Jack is a fellow of The New York Explorer's Club and he has led numerous expeditions to the remote corners of the world, participating in expeditions as a marine naturalist, photographer, and expedition leader, as well as working with noted scientists and explorers such as Dr. Jack Randall and Jean-Michel Cousteau. Jack is an avid scuba diver, certified dive master, and dedicated conservationist and a member of The American Association for the Advance of Science. In 2005 he gave a TED talk on strategies for the preservation of marine biodiversity called "A Shifting Paradigm in the Galápagos".
When not traveling, he manages his own photography business in the Florida Keys.
About The Fishes of the Galápagos Islands
"2017 marks the 20th anniversary of the publication of The Fishes of the Galápagos Islands. To acquire the information, specimens, and photographs required to compile such a comprehensive text, I moved to the Islands in 1977. For the next seven years, my duties were multifaceted—I was employed as a naturalist and divemaster aboard the ship, Bucanero; with support from the Ecuadorian Government, I served in Guayaquíl as the Associate Investigator for the Instituto Nacional de Pesca (National Fisheries Institute); and I also served as a naturalist for the Galápagos National Park Service. In 1982, Dr. Robert Lavenberg, senior ichthyologist at the Los Angeles County Museum of Natural History, signed on as coauthor." – Jack Grove
Tweet