Southern Galapagos with Jack Grove
Route A
September 30 – October 07, 2018
Overview:
Travel in the company of an expert marine biologist and photographer – in addition to our naturalist guides. Enjoy evening lectures over "turtle hour" presented by Jack Grove. Guest will also participate in daily observations of fish behavior and identification directed by Jack in addition to all the scheduled daily activities.
Passengers will also receive a personalized copy of The Fishes of the Galápagos Islands, signed by Jack. This is a first edition hard copy book and they are close to being sold out. Limited quantities are available for those who sign up for the cruise first before our supply runs out (one per couple or cabin) and will be sent to your home 60 days prior to the cruise departure.
A cruise to the Enchanted Isles is a once in a lifetime, wildlife mecca for adventure travelers. Highlights on this northern Galapagos "B" route with the M/V Origin include:
• Lumbering giant tortoises in the highlands
• Viewing red footed and Nazca boobies
• Observing small marine and large land iguanas
• Snorkeling opportunities with Galapagos penguins
• Studying volcanic formations
• Seeing flightless cormorants in action
• Kayaking in small bays and coves
• Sighting whales and dolphins
You can also increase your coverage of the islands by combining this southern Galapagos "A" route with the northern Galapagos "B" route on the Origin with Jack Grove and save 5% on both routes!
Brief Itinerary:
Day 1: San Cristobal Island, Embark The Origin
Day 2: Cerro Brujo / Punta Pitt, San Cristobal
Day 3: Punta Suarez / Gardner Bay, Espanola
Day 4: Punta Cormorant / Post Office Bay, Floreana
Day 5: Puerto Ayora & Highlands, Santa Cruz Island
Day 6: Sombrero Chino, Santiago / Bartolome
Day 7: South Plaza / North Seymour
Day 8: Disembark the Origin & Visit Interpretation Center on San Cristobal Island, transfer to San Cristobal Airport (SCY)
The Origin alternates two different full week 7-night itineraries as required by the Galapagos National Park in an effort to better reduce usage on heavily visited sites.

Interested in more information? Please contact Expedition Easy by telephone at 1-800-617-2319 or e-mail info@expeditioneasy.com.
Southern Galapagos with Jack Grove
Route A
September 30 – October 07, 2018
Day-By-Day Itinerary:
DAY 1 – Sunday, September 30, 2018 – GUAYAQUIL / SAN CRISTOBAL, GALAPAGOS

Upon arrival at Puerto Baquerizo Moreno, crew from the Origin is waiting at the airport to escort you by bus to the main dock and then by zodiac to your yacht anchored in the bay. After the welcome briefing and safety drill, a delicious buffet lunch is served.
Afterwards, travel by bus to Cerro Tijeretas or "Frigatebird Hill" situated on the edge of town. This is one of two sites where you can spot nesting colonies of both great and magnificent frigate birds. The trail leads to Punta Carola where there are beautiful vistas. Find lava lizards, medium ground finches and Chatham mockingbirds. Return to the yacht to join your fellow shipmates this evening for a briefing followed by the Captain's welcome cocktail party and dinner prepared by culinary school-trained chefs
DAY 2 – Monday, October 01, 2018 – CERRO BRUJO / PUNTA PITT, SAN CRISTOBAL

Enjoy your first shipboard breakfast before arriving at Cerro Brujo, a breathtaking white coral beach, considered one of the most spectacular in Galapagos and perfect for a peaceful walk with expansive views and good bird watching. You have an opportunity to kayak from the beach or swim with sea lions. A zodiac ride takes you through a cave called The Cathedral. During lunch, cruise toward the northeastern tip of San Cristobal to Punta Pitt, a tuff formation that serves as a nesting site for many sea birds including all three types of blue footed, Nazca and red-footed boobies, both frigate species, swallow-tailed gulls, storm petrels, shearwaters, brown pelicans and a colony of sea lions.
Punta Pitt is considered to be a first class site for birds and on par with Genovesa (aka Tower) Island. Here you can snorkel at Pitt Rock with sea lions and colorful fish such as the king angel and surgeon fish. Return to the yacht to cruise around Leon Dormido or "Kicker Rock", a vertical tuff cone formation that rises abruptly almost 500 feet out of the ocean. On the cliffs, spot blue-footed boobies, Nazca boobies and magnificent frigate birds. Return to the yacht for a briefing followed by dinner.
DAY 3 – Tuesday, October 02, 2018 – PUNTA SUAREZ / GARDNER BAY, ESPANOLA

After breakfast, disembark at Punta Suarez on Espanola (aka Hood) Island, where you can witness the highest rate of endemic species in the Galapagos. Sea lions noisily greet you while landing on their beach. Curious Hood mockingbirds peck at your shoelaces. From April to December, the waved albatross, found only on Espanola, perform their wild mating ritual. Colonies of blue-footed boobies engage in "sky-pointing" to show off for potential mates. Nazca boobies busily care for their young. Stunning swallow-tailed gulls are the only nocturnal gulls in the world and fish at night. Red-billed tropicbirds take shelter under the cliffs. You also find Darwin's finches, Galapagos doves and Galapagos hawks. Observe a unique specie of marine iguana identified with traces of red and green colorings. Colorful sally light-foot crabs crawl along the shoreline near to the famous "blow hole".
After lunch onboard your yacht, make a wet landing on Gardner Bay at Espanola (aka Hood) Island and walk along a seemingly endless stretch of this white sandy beach where you'll find large colonies of sea lions. There is no trail to follow so this is a chance to explore or take a long walk. You may find a Galapagos hawk, Darwin's finches or Hood mockingbird. Swim with sea lions right from the beach, explore the bay and islets by kayak or just relax on the beach. There's an excellent snorkeling site off Gardner Islet with a colorful diversity of sea life near Tortuga Rock. Explore caves by zodiac covered with invertebrates. Return to the yacht for a briefing followed by dinner.
DAY 4 – Wednesday, October 03, 2018 – PUNTA CORMORANT / POST OFFICE BAY, FLOREANA

Breakfast onboard is followed by stepping ashore at Punta Cormorant on Floreana (Charles) Island, where the olive-sand beach is alive with the sounds of sea lions, lava herons, yellow-crowned night herons, blue-footed boobies, and penguins. Follow a trail to a brackish lagoon, home to Bahama ducks, common stilts, Galapagos flycatchers, yellow warblers and the greater flamingos. Wind your way past a rich variety of plants including the morning glory, cut-leaf daisies, mangroves (black, red and white), palo verde and scalesia. The trail leads to a beach where sea turtles lay their eggs in the powdery sand dunes and sting rays swim in the shallow water. After the walk, there is an opportunity to snorkel at Devil's Crown, a shallow sunken crater colonized by a brilliant array of colorful fish and coral, white-tipped sharks, sea turtles, spotted eagle rays and sea stars. Lunch is served back on board the Origin on the sundeck, weather permitting.
Floreana is one of the few populated islands in Galapagos with a rich and intriguing human history. After lunch, visit one of the most famous sites in Galapagos, Post Office Bay, where a post barrel was erected in the late 18th Century for use by English whaling vessels. Visitors are invited to leave a post card and to pick up any mail destined for their home area. There is an opportunity to swim from the beach with sea lions. Late afternoon, take a Zodiac ride near Baroness Point to look for sea turtles and rays. Return to the Origin for a briefing followed by dinner.
DAY 5 – Thursday, October 04, 2018: PUERTO AYORA & HIGHLANDS, SANTA CRUZ

After breakfast, disembark at Puerto Ayora, Santa Cruz Island, the social hear of the Galapagos, with a population of 24,000. Travel by bus to the highlands, passing through all seven vegetation zones found in Galapagos. Visit a tortoise reserve, a private farm that protects giant tortoises in their natural habitat. Stop at the largest lava tubes in the archipelago, and visit Los Gemelos, (The Twins), a pair of large craters. Return to the Origin for lunch on board.
This afternoon is at the Centro de Crianza Fausto Llerena (formerly the Charles Darwin Research Station). Visit the tortoise corals and the breeding center with hatchlings and miniature tortoises that will be repatriated when grown. Scientists from all over the globe conduct biological research at the station from anatomy to zoology. Visit the new exhibit honoring Lonesome George, a worldwide icon of conservation as the last surviving tortoise from Pinta Island that tragically died of natural causes. Stroll through town to shop for souvenirs or stop at an internet café. Return to the Origin for dinner or, if you wish, remain ashore for dinner on your own. Zodiac shuttles to the dock will be offered throughout the evening.
DAY 6 – Friday, October 05, 2018 – SOMBRERO CHINO, SANTIAGO / BARTOLOME

This morning's breakfast is followed by going ashore at Sombrero Chino (Chinese Hat), a small island off the southern tip of Santiago that owes its name to its shape. After landing on a beach with colonies of sea lions, follow the trail to a primeval landscape of volcanic rubble including cracked lava formations and tubes. Marine iguanas and pairs of oystercatchers are commonly seen. Snorkel at a site frequented by large numbers of Galapagos penguins.
After lunch, disembark at Bartolome, a young island inhospitable to most plants and animals. Climb the long wooden staircase to the summit of a dormant volcano, pausing along the way to marvel at lava bombs, spatter cones and cinder cones. It seems as if you are walking on the moon! The panoramic view from the top encompasses the entire island, including the distinctive eroded tuff cone known as Pinnacle Rock. The crystal clear water below beckons for snorkeling with schools of tropical fish, white-tipped reef sharks and Galapagos Penguins. Take a Zodiac ride along the rocky shoreline. Return to the Origin for the evening briefing and dinner.
DAY 7 – Saturday, October 06, 2018 – SOUTH PLAZA / NORTH SEYMOUR

Breakfast onboard and then today's visit is at South Plaza, a small geological uplift with tall cliffs where swallow-failed gulls, shearwaters, and red-billed tropicbirds build their bests. The trail leads us through Opuntia (prickly pear) and Sesuvium, and land iguanas are seen here feeding on cactus leaves. The island is also home to a colony of bachelor sea lions, with dominant bulls in various stages of recovery from battles over prime beach territory. Return to the Origin and snorkel between North and South Seymour in deeper water.
After lunch, go ashore at North Seymour, a small geological uplift to observe swallow-tailed gulls, blue-footed boobies and endemic land iguanas. Visit the largest colony of magnificent frigatebirds in the Galapagos, and watch for marine iguanas and sea lions body surfing the northern swells. Return to the Origin for the Captain's farewell cocktail party and dinner, followed by a slide show presentation.
DAY 8 – Sunday, October 07, 2018 – SAN CRISTOBAL / GUAYAQUIL

After breakfast, disembark the Origin and travel by bus to the San Cristobal Interpretation Center to learn more about the natural and human history of the Islands. Afterwards, spend time in port before heading to the Puerto Baquerizo Moreno airport (SCY)
*Please note: This itinerary is subject to change. Expedition highlights and wildlife listed here are possible experiences only and cannot be guaranteed. Your Expedition Leader and Captain will work together to ensure opportunities for adventure and exploration are the best possible, taking into account the weather, wildlife activity and overall conditions.
ECO-SD2018
Southern Galapagos with Jack Grove
Route A
September 30 – October 07, 2018
About the Ship
M/V Origin
Custom-designed for sustainability and comfort, the Origin is the ultimate Galapagos cruise vessel, offering luxurious amenities while minimizing environmental impacts. Every element of this 20-passenger luxury yacht has been specially designed for comfort, safety and sustainability. The 10 staterooms are roomy and inviting, with large windows, private bathrooms, and plenty of storage space. An elegant dining room features marble table tops, with configurations from two to 10 guests for private or group dining. Lunch is generally served al fresco on a spacious sundeck, which is equipped with day beds, chaises lounges, tables, hammocks, a four-person Jacuzzi, outdoor shower and a wet bar. An intimate indoor bar is always open for hand-crafted cocktails, wine, beer, sodas, juices, coffee, and tea. Interior social areas include a comfortable lounge for evening gatherings and general relaxation, and a cozy library stocked with books on the Galapagos and Darwin. A public computer is provided for guest use. The Origin also has a boutique offering high-quality local handicrafts, sundries, and gift items, as well as a fitness center equipped with a treadmill, elliptical, free weights, yoga mats, and more. The experienced 14-member Ecuadorian crew includes a high-level captain, a full-time concierge, and two expert naturalist guides – one for every 10 guests, the lowest ratio in the Galapagos.
Technical Specifications
Type: Luxury class motor yacht
Year Built: 2016 specifically for Galapagos cruising
Capacity: 20 exclusive guests in ten double/twin cabins
Crew: 14 including Captain and two naturalist guides
Cruising Speed: 12 knots
Length: 142 feet / 43.5 meters
Beam: 27.5 feet / 8.5 meters
Certification: Passenger Ship Safety & Management Certificates (SOLAS)
Registry: Ecuador
Southern Galapagos with Jack Grove
Route A
September 30 – October 07, 2018
Rates:
Cruise Rate: $7,850 per person double occupancy per week
Please note: We suggest that all passengers traveling to Galapagos allow two nights in mainland Ecuador prior to their cruise (not included) to allow for potential flight delays and misconnection. This is particularly important for passengers traveling over holidays when flights are more likely to be overbooked and delayed caused by bad weather conditions. Passengers who miss the flight to Galapagos on Sunday morning will not be able to meet up with the yacht until later in the week provided seats are available and will need to hire a private speedboat (at their own expense) to transport them to the vessel. Delivery of delayed baggage can be arranged during the cruise for an additional cost of $40 for up to 3 pieces of luggage. We highly recommend passengers purchase a comprehensive travel insurance policy to protect their travel investment from any potential loss.

COMBO SAVINGS:
– Combine this Origin Southern "A" itinerary with Origin Northern/Western "B" itinerary with Jack Grove and receive a 5% savings on both consecutive back-to-back itineraries!
GALAPAGOS PARK ENTRANCE FEE & TRANSIT CONTROL CARD PER PERSON:
The following government required taxes and fees are NOT included in any of the comprehensive package or cruise only rates above. Expedition Easy will add these to your invoice so that they will be prepaid for you upon arrival.
– Galapagos Entrance Fee: $100 for adults and $50 for children age 11 and younger
– Transit Control Card: $20 for each visitor to the Galapagos
The above costs are subject to change at any time until day of departure.
All rates are approximate until time of booking. Rates are quoted in USD and subject to change without prior notice due to circumstances beyond our control (ie fuel increases, currency fluctuations, etc).
Flights
International flights in and out of Guayaquil (GYE) are required and not included. Expedition Easy can book these flights for you upon request.
Domestic scheduled flights between Guayaquil (GYE) on mainland Ecuador and San Cristobal (SCY) in the Galapagos are also required and not included. Expedition Easy will book these flights for you and add them to your invoice as follows.

GUAYAQUIL (GYE)/SAN CRISTOBAL (SCY)/GUAYAQUIL (GYE) FLIGHTS PER PERSON:
– $443 for adults and $275 for children age 11 and younger
Above airfares include all airport taxes and airfare fuel surcharges. Airfares are subject to change at any time up until the day of departure and even after tickets have been paid in full.
Included:
Cruise accommodation, all meals and snacks, all beverages including open bar, 24/7 Espresso, coffee and tea, Captain's welcome and farewell party, evening cocktail hour and lectures, concierge services, guided shore excursions, use of wet suits, snorkeling equipment, kayaks, stand up paddle boards, transfers between the airport and dock in Galápagos.
Not Included:
International airfare, airfare to Galápagos, National park entrance fee ($100), transit control card ($20), premium alcoholic beverages, gratuities to guides and crew, purchases on board in our boutique and travel insurance (recommended). Overnights in hotels in Ecuador prior to cruise. Meals prior to cruise. Travel & Health Insurance. All destination arrival and departure taxes. Passport and visa fees. Travel medications and vaccinations, Personal items and services such as souvenirs, drinks, laundry, phone calls, etc, All other items not indicated as included or in the itinerary
Deposit & Payments
This itinerary is subject to the availability of all services at the time of making a reservation. No space is being held at this time. Please contact Expedition Easy for the full terms and conditions that apply. We are happy to answer questions and discuss your trip.
Reservations
To reserve space on a trip on the Expedition Easy website, please contact Expedition Easy by telephone at 1-800-617-2319 or e-mail info@expeditioneasy.com.
Southern Galapagos with Jack Grove
Route A
September 30 – October 07, 2018
Jack Grove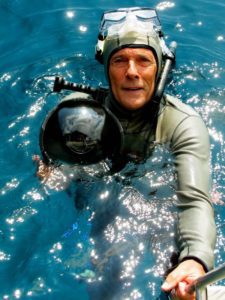 A marine biologist and professional naturalist, Jack has spent much of the past two decades traveling on, and lecturing about, the world's oceans. Jack is a leading authority on the fishes and marine environments of the eastern tropical Pacific. For more than twenty years he was a research associate in the Section of Fishes at the Los Angeles County Museum of Natural History. For seven years, he lived in the Galápagos, where he served as an associate investigator for the Ecuador's National Fisheries Institute, and was senior author of the only Ecuadorian publication on Galápagos fishes.
He continues to carry out extensive marine biological studies in this UNESCO World Heritage Site today. In 1997, Stanford University Press published his comprehensive volume The Fishes of the Galápagos Islands, and he received his Ph.D. from Pacific Western University.
A true adventurer, Jack is a fellow of The New York Explorer's Club and he has led numerous expeditions to the remote corners of the world, participating in expeditions as a marine naturalist, photographer, and expedition leader, as well as working with noted scientists and explorers such as Dr. Jack Randall and Jean-Michel Cousteau. Jack is an avid scuba diver, certified dive master, and dedicated conservationist and a member of The American Association for the Advance of Science. In 2005 he gave a TED talk on strategies for the preservation of marine biodiversity called "A Shifting Paradigm in the Galápagos".
When not traveling, he manages his own photography business in the Florida Keys.
About The Fishes of the Galápagos Islands
"2017 marks the 20th anniversary of the publication of The Fishes of the Galápagos Islands. To acquire the information, specimens, and photographs required to compile such a comprehensive text, I moved to the Islands in 1977. For the next seven years, my duties were multifaceted—I was employed as a naturalist and divemaster aboard the ship, Bucanero; with support from the Ecuadorian Government, I served in Guayaquíl as the Associate Investigator for the Instituto Nacional de Pesca (National Fisheries Institute); and I also served as a naturalist for the Galápagos National Park Service. In 1982, Dr. Robert Lavenberg, senior ichthyologist at the Los Angeles County Museum of Natural History, signed on as coauthor." – Jack Grove

September 30 - October 07, 2018
Tweet