Wild Colombia
March 04 – 15, 2021
Overview:
Look for over 300 species of birds found in Manizales, Colombia's mountainous coffee-growing region. Explore Lake Tarapoto and its surrounding forest to search for primates, birds, and pink and gray river dolphins. Search for a variety of large mammals in the Llanos region—giant anteaters, capybaras, howler monkeys, white-tailed deer, and elusive jaguars and pumas. Explore charming Cartagena to discover elegant colonial architecture, white-sand beaches, world-class cuisine, and a vibrant night-life; and view the artifacts of ancient pre-Hispanic cultures at Bogotá's exquisite Gold Museum.
Brief Itinerary:
Day 1: Depart USA / Bogotá, Colombia
Day 2: Bogotá
Day 3: Bogotá / Pereira / Manizales
Day 4: Manizales
Day 5: Manizales / Jardin
Day 6: Jardin
Day 7: Jardin / Medellin
Day 8: Medellin / Santa Marta / El Dorado Reserve
Day 9: El Dorado Reserve
Day 10: El Dorado Reserve / Cartagena
Day 11: Cartagena
Day 12: Cartagena / USA
Interested in more information? Please contact Expedition Easy by calling 1-800-617-2319 or click here to e-mail the Expedition Easy Team.
Wild Colombia
March 04 – 15, 2021
Day-by-day Itinerary:
Day 1 – Depart USA / Bogotá, Colombia
Board your independent flight to Colombia. Arrive in Bogotá this evening and transfer to Sofitel Bogota Victoria Regia for dinner and overnight.
Day 2 – Bogotá
Rise early for a walking tour of La Candelaria and Plaza de Bolivar, the city's historic center, filled with beautiful colonial architecture. Then visit the Gold Museum, which houses an extraordinary collection of pre-Hispanic artifacts. After this, take a cable car ride to the summit of Cerro Monserrate for a tour of the Church of our Fallen Lord, an iconic symbol of Bogotá. Enjoy lunch at a nearby restaurant that offers panoramic views over the city. Enjoy an afternoon of birding at the Hummingbird Observatory in La Calera. In the evening, return to the hotel for dinner and overnight.
Day 3 – Bogotá / Pereira / Manizales 
After an early breakfast, transfer to the airport for our flight to Pereira, then depart overland for Manizales, part of the Colombian Coffee-Growers Axis, Eje Cafetero. After a traditional Colombian lunch, tour one of the many coffee plantations to learn about this important cultural and economic commodity—from cultivation to roasting to tasting. Check in to the Hotel Termales del Ruiz, nestled high in the mountains of Nevados del Ruiz Park Stroll the grounds, observe the hummingbirds feeders, or take a dip in the natural thermal-spring pool.
Day 4 – Manizales
Spend the morning birding around the hotel and nearby Parque Nacional Natural Los Nevados. High-Andean specialties and endemics found here include Andean condors; black-chested buzzard-eagles; gray-breasted mountain toucans; rufous-fronted parakeets, buffy helmetcrests; tawny antpittas; golden-breasted and black-thighed pufflegs; crested cotingas; sapphire-winged hummingbirds; shining sunbeams; buff-winged starfontlets; and various mountain tanagers. Return to the hotel for lunch. Spend the afternoon searching for birds in the hotel's extensive gardens and along the old road to Manizales.
Day 5 – Manizales / Jardin
Depart before dawn for your drive to the Rio Blanco Nature Reserve, located just above Manizales. Considered to be one of the top birding sites in the world, the area boasts over 330 species within a 15-square-mile radius. Here, it is possible to see up to five species of antpitta—slate-crowned, chestnut-naped, bicolored, brown-banded, and chestnut-capped—along with rare masked saltators, ocellated tapaculos, and beautiful buff-breasted mountain tanagers. After lunch in the reserve, depart overland for Jardin. Arrive at the delightful Casa Passiflora Hotel Boutique, our base for two nights, in time for dinner.
Day 6 – Jardin
Go birding at Ventanas Peak, searching for such species as rufous antpitta, slaty brush-finch, tourmaline sunangel, masked flowerpiercer, collared Inca, masked trogon, and yellow-eared parrot. Return to the hotel for lunch. This afternoon, visit an Andean cock-of-the-rock lek where we hope to find displaying males. Other birds that have been seen here include golden tanager, black-winged saltator, and Colombian chachalaca.
Day 7 – Jardin / Medellin
Enjoy one last birding excursion and breakfast, then depart overland for Medellin. Winner of the 2013 Innovative City of the Year award, Medellin is one of South America's most modern and affluent cities. Take a stroll through the Botanical Garden, home to 4,500 flowers and 130 species of birds, make a stop at Plaza Botero, then visit the Entre Flores, a farm that cultivates numerous varieties of orchids and hydrangeas. Check in to the Movich Hotel Las Lomas for dinner and overnight.
Day 8 – Medellin / Santa Marta / El Dorado Reserve
This morning, transfer to the airport for our flight to Santa Marta. Upon arrival, depart overland for the El Dorado Reserve, which protects one of the most fragile and important zones in Colombia, the Sierra Nevada de Santa Marta, home to a large number of unique plant and animal species. Check in to the El Dorado Lodge for lunch. Spend the afternoon exploring around the lodge. In the late evening, you may choose to join an optional birding excursion to search for nocturnal species.
Day 9 – El Dorado Reserve
Head into the hills to Cuchilla de San Lorenzo to look for the Sierra Nevada de Santa Marta's astonishing 21 endemic species, including Santa Marta antwren, Santa Marta parakeet, Santa Marta sabrewing, Santa Marta mountain-tanager, and yellow-crowned whitestart. There will also be time to observe some endemic plant life and wax palms unique to this Andean forest. Return to the lodge for lunch. An afternoon exploring around the lodge may reveal white-tipped quetzal, Santa Marta foliage-gleaner, Santa Marta tapaculo, and streaked spinetail.
Day 10 – El Dorado Reserve / Cartagena
This morning, depart overland for a lovely drive along the coast to Cartagena, with stops for wildlife viewing, a mangrove walk, and lunch along the way. Check in to Casa San Agustin for dinner and overnight.
Day 11 – Cartagena
Today you will tour the architectural highlights of Cartagena, a UNESCO World Heritage Site. Visit the Convent of La Popa, and San Felipe's Fort. After lunch at a local restaurant, browse the colorful handicraft stores of Las Bovedas, where local artisans display their wares, stroll along the gorgeous white-sand beach, or simply wander the maze of cobbled streets and pretty plazas in the colonial center. Return to the hotel for a special farewell dinner and overnight.
Day 12 – Cartagena / USA
Transfer to the airport for your independent homeward flight, arriving in the USA the same day.
*Please note: This itinerary is subject to change. In the spirit of expedition travel, plans may change slightly to take full advantage of encounters with the destination and its people, culture, and wildlife.
ZOE-SD2021
Wild Colombia
March 04 – 15, 2021
Rates:
Dates of Trip: March 04 – 15, 2021
Trip Package Rate:  TBA
– Rates are per person and are based on shared accommodations
– Rates are approximate until the time of booking
– Rates are quoted in USD and subject to change without prior notice
– Rates are based on availability at the time of booking
Flights:
Flights Required for this Itinerary:
Domestic air transportation within Colombia is included in the price of the expedition.
International Airfare:
You will need to purchase airfare from your home city/Bogotá and Cartagena/home city.  Expedition easy does not make international air reservations and international air is not included in your quote. However, please do let us know if you would like assistance with booking your international air. We would be happy to put you in touch with our airline partner, Exito Travel to assist you with your international air reservation.
Included:
– Domestic airfare within Colombia
– All excursions in the company of a world-class expedition leader and local guides
– All gratuities
– All accommodations
– All group meals, including selected beverages with lunch and dinner
– All entrance fees
– Arrival and departure transfers on group dates
– Gift certificates for recommended expedition gear
– Medical expense coverage and emergency evacuation insurance
Not Included:
– Airfare from your home city/Bogotá and Cartagena/home city
– excess baggage charges
– airport arrival and departure taxes
– transfers for independent arrivals and departures
– passport and/or visa fees
– travel insurance
– items of a personal nature such as laundry
– alcoholic beverages (other than listed)
– other incidentals; and email/Internet/fax/telephone charges
Before You Go
This expedition's primary objective is wildlife viewing. Although the tour is not overly strenuous, you should be reasonably fit and capable of moderate exercise while searching for wildlife. On several occasions there will be hikes that will entail walking, unaided, along rugged trails with occasional inclines. Participants should also be aware that several days of our itinerary require lengthy journeys along rough roads to reach the areas that are diverse and rich in wildlife. Be prepared to spend several hours traveling between destinations or seated in small boats while searching for wildlife. All accommodations are en suite and comfortable, but quite basic due to the remote locations we will visit, including one without running hot water. For travelers who delight in natural history, possess a sense of humor, flexibility, and a true spirit of adventure, your expedition to Colombia will be remembered for many years to come. Temperatures will range greatly during this expedition. Areas at high altitude, such as Bogotá and Manizales, experience cool temperatures year round, from the mid-50s°F to mid-60s°F. Temperatures in Cartagena will be high, with most days reaching the low 80s°F, though high humidity can make it feel warmer.
Deposit & Payments
A completed & signed Expedition Easy Reservation Form, along with your 25% trip deposit and full regional and/or domestic air payment (if applicable) is required at the time of booking.
Reservations
This itinerary is subject to the availability of all services at the time of making a reservation. No space is being held at this time. Please contact Expedition Easy for the full terms and conditions that apply. We are happy to answer questions and discuss your trip.
To reserve space on a trip on the Expedition Easy website, please contact Expedition Easy by calling 1-800-617-2319 or click here to e-mail the Expedition Easy Team.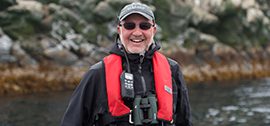 Mark Brazil | Expedition Leader
Mark developed his fascination with the natural world, especially birds and mammals, during his boyhood in the landlocked English county of Worcestershire. He pursued academic interests in biology during studies in England and Scotland, while exploring the coasts and mountains of Britain in search of birds. Mark earned his PhD from Stirling University, Scotland, for his work on avian behavioral-ecology in Iceland and Scotland. Ornithological research, natural history consultancy for TV companies, and guiding naturalists and wildlife photographers, have taken him to all continents, but his particular passion is Asia in all its diversity. Fascinated by island biology, he is a leading authority on the natural history of Japan, where he worked as a professor of biodiversity and conservation at Rakuno Gakuen University, near Sapporo, until 2007. Mark is currently based in Hokkaido, Japan. In addition to being a field naturalist, he is a prolific writer. Up until recently, he was a columnist for The Japan Times newspaper appeared there since 1982 and was the longest running natural history column in the world) and writer-in-residence for JapanVisitor.com. Mark's books include Wild Asia: Spirit of a Continent, The Birds of Japan (the definitive text of bird biology and distribution in the Japanese archipelago), The Monograph, The Whooper Swan, and most recently, A Field Guide to the Birds of East Asia. Mark juggles international travel with writing and enjoys spending as much time as possible exploring Hokkaido.
Tweet