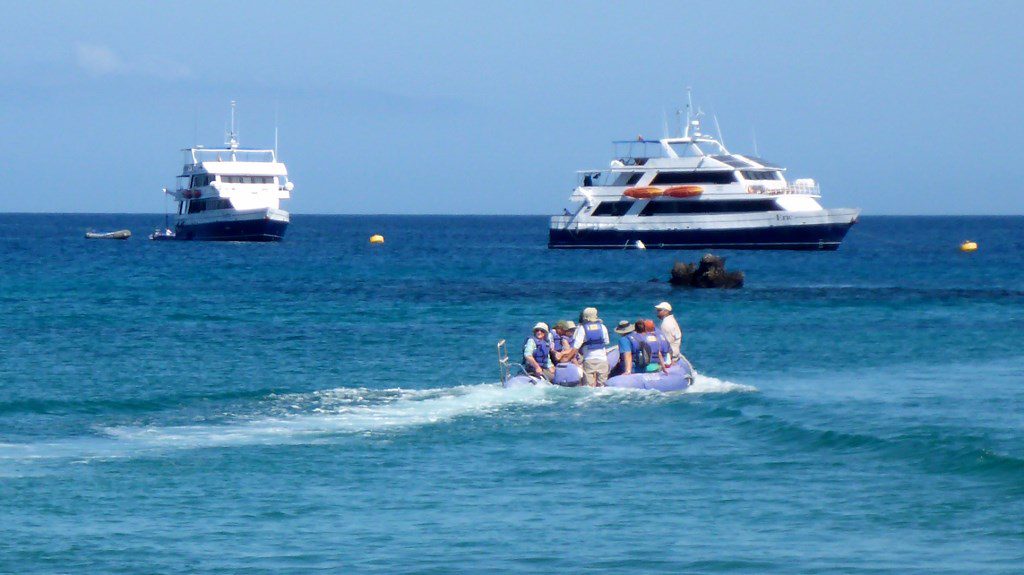 By Nadia Eckhardt
The Galapagos Islands are a naturalist's paradise – by land and sea. I traveled to these enchanted islands two times in 2014 – on a January scouting trip and leading an 18-person family private charter in May. Each trip was an extraordinary experience with up-close wildlife sightings from snorkeling with sea lions to exploring ashore with sights of Galapagos giant tortoises, marine iguanas, and birdlife.
Located in the Pacific Ocean, 600 miles west of Ecuador, the Galapagos Islands remote nature lends itself to being the wildlife haven it is today. Once aboard your expedition ship, your time will be spent exploring this archipelago full of natural history wonders. It may be days before you see a town or shopping center, so it's important to be prepared and have what you need to make the most of your expedition.
Here's our top 10 essentials to help you gear up easy for the Galapagos:
1. Pre-Trip Wisdom
The team at Expedition Easy recommends packing pre-trip wisdom to bring a greater appreciation and understanding of your destination. Reading and learning about the history and wildlife of the Galapagos Islands extends the adventure before your departure, and will enhance your time spent in the islands. Contact us for pre-trip reading suggestions.
2. Photography for Land and Sea
The Galapagos has spectacular sights by land, by sea, and in the sky! An astonishing number of Galapagos wonders are underwater. Capture the scene of sea turtles and colorful fish swimming, as penguins dart through the water. Plan for photos in this diverse destination and consider an underwater camera or underwater camera case.
3. Daypack
You'll depart the expedition ship on various excursions each day. A light daypack is perfect for carrying necessary items, such as clothing layers, water bottle, sunscreen, and camera.
4. Protection from Sea and Sun
The Galapagos sun shines bright and powerful. Be prepared with sunscreen, sunglasses, and a wide-brim hat with a tie under the chin, so it will stay on while you lean over the Zodiac to watch sea lions swim by.
5. Water Bottle
A lightweight, reusable water bottle is a top travel item for expeditions. Ease and convenience are key, so have your essentials like a water bottle on hand for shore landings.
6. Clothes for Activities Galore
I had many 'costume changes' on my two Galapagos trips in 2014. Often, I'd start in clothes for a hike and end in a wetsuit. There are typically three excursions a day on Galapagos expeditions, including options such as snorkeling, swimming, kayaking, hiking, beach time, or Zodiac cruises. The temperatures varied throughout, so think layers, layers, layers!
7. Cruise Clothes
Between great adventures with sand in your toes and saltwater in your hair, you'll find comfort in life aboard. There will be three meals a day aboard, educational talks, and time to relax on the sundeck. Or, who knows, an impromptu salsa dancing class may occur after dinner?! Be prepared with casual ship clothes and a nice outfit or two, to enjoy time aboard.
8. Jacket
Snorkeling and beaches may not conjur up images of a jacket and fleece, but the early morning and evening temperatures can grow cool. You can skip the Antarctic parka, but a lightweight jacket may come in handy.
9. Footwear
Much like clothes for your Galapagos expedition, pack footwear that can travel from rocky terrain on a hike to a beach walk, or a wet landing by Zodiac. Consider a pair of durable water sandals and shoes that are built for land and sea, and can act as two pairs of shoes in one.
10. Adventurous Spirit
Expedition travel, whether to Antarctica or the Galapagos, is best experienced by embracing the unexpected. Your expedition team may change a day's events to make the most of wildlife sightings, or you may choose to change up your day with a kayak excursion in the morning, and a Zodiac cruise and snorkeling in the afternoon. Each day is an incredible adventure in the Galapagos!
Our partner, Ship to Shore Traveler, has helped travelers gear up easy since 1984. Visit Ship to Shore to start shopping now.
For more information on preparing for your Galapagos trip, contact us and we will help you gear up for your expedition.
Tweet