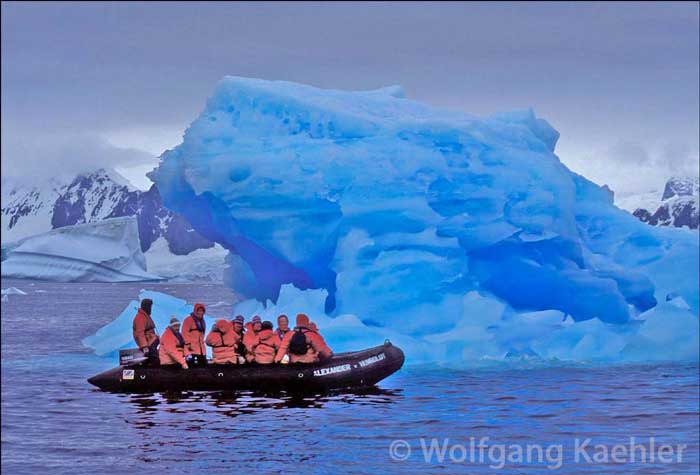 By Nadia Eckhardt and Lynda Murphy
A journey to Antarctica is a trip of a lifetime. As you walk ashore amid a penguin colony, explore the Antarctic coastline by Zodiac, and view huge tabular icebergs from the deck of your expedition ship – enjoy each moment by being prepared in the right gear.
We've geared up for expeditions for twenty years. Whether exploring polar or tropical climates, having the proper gear is important.
There are essentials to have when you discover the 7th continent. Here's our top 10 to help you gear up easy for Antarctica:
1. Sunglasses – The White Continent enjoys months of sunlight during its austral summer. Sunglasses with UV protection are essential to take in the stunning landscapes, minus squinting amid glittering glaciers and immense icebergs!
2. Hat – Bring a good, warm hat with a visor to shade your eyes and flaps to protect your ears. A toasty suggestion is a fleece or wool duckbill hat! A hat is essential, as a tremendous amount of heat escapes from your head, even if the rest of your body is bundled up.
3. Neck Gaiter – Neck gaiters are a great alternative to scarfs and balaclavas. They are flexible and come in an array of fun colors. They help keep wind from getting in through the top of your parka, protect your neck and face from cold air, and double as a headband.
4. Gloves – Imagine yourself scouting for minke or humpback whales, photographing penguin rookeries, and having a light-hearted snowball fight on Antarctica! If you're a photographer, consider gloves that have a flap to let your fingertips free or ones that allow you to feel and use your camera with ease. We suggest waterproof gloves, with a breathable glove liner underneath, so you can remove your outer glove as preferred. Also, place hand warmers in your gloves or parka pockets to be ready and warm for explorations.
5. Layers, Layers, Layers – Our team hails from Seattle, Washington, so we are well-versed in the art of layering. We recommend planning for a base layer and insulation layer, in addition to the outer layer of waterproof pants and parka. Think breathable, light-weight long underwear for the base layer, and a windproof, water resistant jacket, pullover or vest for the insulation layer. Also, pants that can fit easily over the base layer will help make Zodiac rides warm and comfortable.
6. Hooded Jacket (Parka) – Depending on the expedition ship you're traveling on, a parka may be included and waiting for you when you board. If you're choosing a parka, look for a waterproof, windproof jacket that can fit over your layers and is comfortable to move in.
7. Waterproof Pants – Waterproof pants are a must to stay warm on Zodiac excursions, as well as to stay dry and happy as you sit in the snow photographing penguins. We recommended breathable pants with knee-high side zippers that are large enough to fit over boots and your layers.
8. Boots – Rubber, waterproof boots will keep your feet dry and warm on Zodiac landings. Look for flexible, pull-on boots with sturdy soles that are mid-calf length or higher. Choose heavyweight wool socks to wear with your boots. Additional footwear to pack are light slip-on shoes for relaxing onboard. Note: Boots are provided on select expedition ships.
9. General Purpose Clothes – One thing to keep in mind is what you'll want to wear around the ship, from time spent in common areas like the lounge and dining area, to your cabin. You might not think to bring a swimsuit for Antarctica, but you may choose to participate in a polar plunge or use an aboard Jacuzzi. Also, depending on the trip, you will likely begin with a day or more in Argentina, where you may choose to see Iguazu Falls, explore Buenos Aires, or go on a wine tour of Mendoza.
10. Adventurous spirit – Antarctica is a trip of lifetime, unlike any other adventure on Earth. Embrace the excitement and unexpected nature of exploration. In the spirit of expedition travel, a day's events may change slightly to take full advantage of wildlife sightings and what the destination has to offer.
Our partner, Ship to Shore Traveler, has helped travelers gear up easy since 1984. Visit Ship to Shore to start shopping now.
For more information on preparing for your Antarctica trip, contact us and we will help you gear up for your expedition.
Tweet