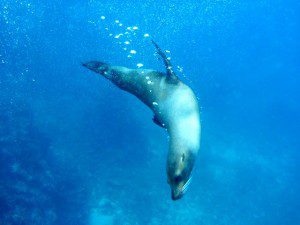 By Nadia Eckhardt
Ecuador's Galapagos Islands are an incredible year-round destination for travelers of all ages. Going by small ship is ideal for family travel, where grandparents, parents, and children can share this natural wonderland. The Galapagos Islands captivate with extraordinary up-close wildlife sightings and diverse activities to spark each person's interest.
I recently traveled aboard a 20-passenger yacht in January 2014, and was enthralled by the experience. My next visit will be leading a trip for an 18-person multi-generational family later this year. I'm delighted for this amazing family to share, discover and learn together.
My top 5 reasons to take a Galapagos family trip include:
1. Activities for All to Enjoy
Activities abound in morning, afternoon, and night, with flexible and optional choices. You may choose to participate in a guided nature walk, embark on a Zodiac ride, go snorkeling with sea lions, kayak in stunning scenery with rich birdlife, or to relax at the beach. Beyond shore excursions, families can come together onboard the ship throughout each day to enjoy delicious meals, play board games, listen to educational talks by naturalist guides, and enjoy special visits to the bridge with the ship's captain. There is truly something for everyone.
2. Small Ship Travel Makes Exploring Seamless
While you're sitting down to enjoy lunch or stargazing at night, your small ship can be navigating to the next adventure. Travel by small ship eliminates the guesswork of how to get from point a to point b. The whole family can focus on the experience of exploring the Galapagos Islands for the duration of your time onboard.
Note: Set family departures are available and are a great option if you are looking to travel with other children/teens in similar age groups as your own. They include a special guide for the kids and have a greater focus on activities geared towards children and teens. Also, a small ship like the 20-passenger Eric/Flamingo/Letty can make a perfect charter.
3. Up-Close Encounters with Wildlife
The Galapagos Islands are a remarkable place where it's possible to connect with many different types of wildlife. Come face-to-face with a Galapagos giant tortoise, swim with sea turtles, and walk amongst marine iguanas with blue-footed boobies and frigate birds curiously looking onward. Explorers young and old will feel childlike wonder in this fascinating national park.
4. Learning for the Whole Family
Expert, naturalist guides accompany outings ashore and offer educational activities onboard. Kids and adults will learn throughout the trip – often without even knowing it. Return home with new wisdom gained in the world classroom; from moments while on a Zodiac ride through mangroves to being at the ship's bridge during the equator crossing.
5. Memories to Last a Lifetime
Families can create a shared memory together on a Galapagos cruise. A place like the Galapagos, distant from day-to-day life, encourages shared discoveries. The memories, photos, and stories live long past disembarkation and can be re-visited for years to come.
Tweet