By Lynda Murphy, Expedition Easy Program Manager
My first time in Antarctica also included the Falkland Islands and South Georgia. The expedition was a once in a lifetime experience as it was over the millennium. We celebrated Christmas following in Ernest Shackleton's footsteps on South Georgia, and rang in the year 2000 at the White Continent. It is by far one of the most memorable and amazing adventures in my life.
This was a working trip for me aboard the Clipper Adventurer, a small expedition vessel. Our trip started in Santiago, Chile where everyone came together as a group and we flew on a private charter flight to Mount Pleasant Airport, Falkland Islands. After customs and immigration we stopped at a charming little cafe museum where we enjoyed afternoon tea before embarking the Clipper Adventurer, our home away from home for the next 16 days.
Our first day in the Falklands could not have started out better. It was a sunny and warm December morning, and at 0600 we had our first zodiac excursion to Bleaker Island, home to the rockhopper penguin.
Cameras were clicking away as there is no mistaking the rockhoppers with their colorful punk-rock style feathers on their heads and their silly antic behavior. We spent the morning entertained by these small birds as they repeatedly hopped from rock to rock, in and out of the water, diving from cliffs sometimes as high as 50 feet in search of food.
The ship headed south to Sea Lion Island, one of my personal highlights. Our zodiacs zoomed from the ship to land us on beautiful white sandy beaches. We were welcomed by resident elephant seals and sea lions lounging on the beach. The island is only five miles long and just over a mile wide; the perfect size to walk around and explore.
The photo opportunities and wildlife viewing were endless. Everywhere we looked we could see gentoo, rockhoppers, and magellanic penguins waddling around the stretches of beach. We watched from the beach as killer whales circled the island in pursuit of stray elephant seals and sea lion pups just learning to swim. And this was just day one!
We sailed for two days and two nights to reach the rugged mountainous island of South Georgia. Over the next few days we would reap the rewards! Our first outing was an early morning zodiac cruise of Elsehul Bay, where we encountered massive numbers of grumpy fur seals that overrun the beaches and made it almost impossible for our zodiacs to land. We also saw our first grey-headed and black-bowed albatrosses.
We continued to Salisbury Plain, a paradise for wildlife lovers. As far as the eye could see there were literally millions and millions of animals going about their lives with little concern for our group of humans. With a beautiful mountain range around us, it was a fairy-tale like experience.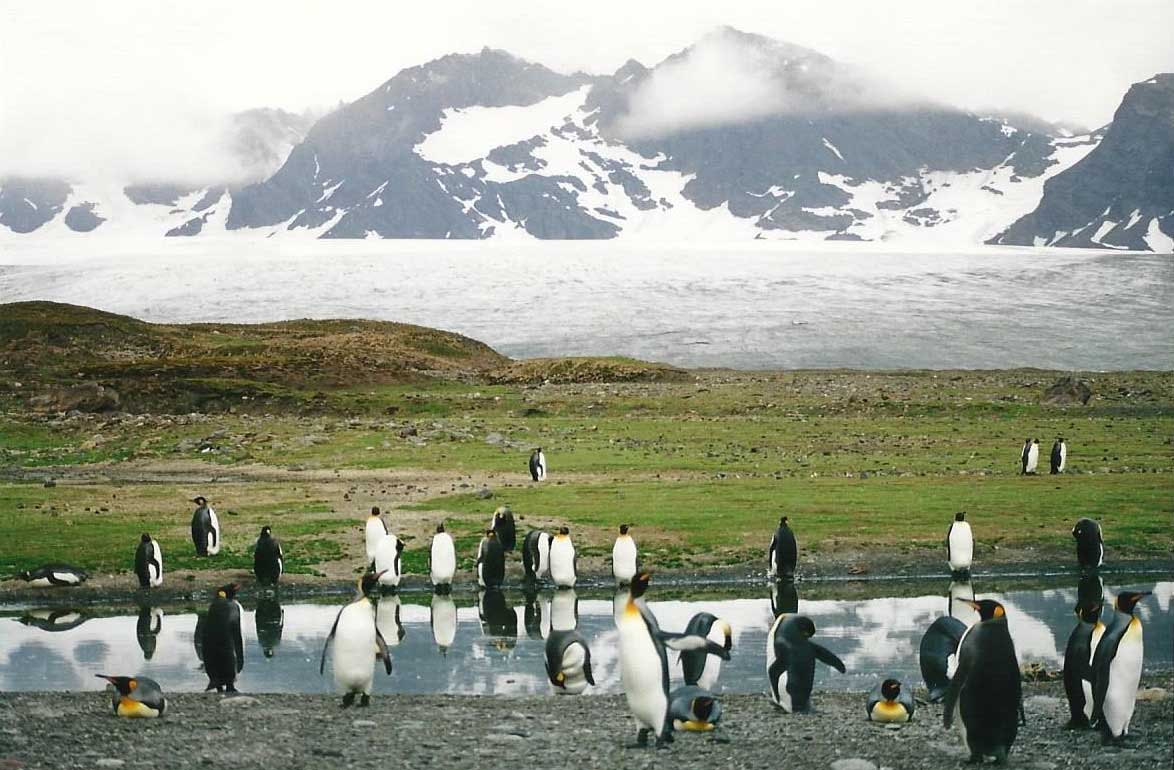 Several hours were spent wandering around the endless beaches that were just breathing with life. We walked amongst king penguins, observed and photographed the molting juvenile penguins, and curious fur seal pups.
At first sight the scene gives the impression of being home to more wildlife than any other place in the world, an enormous king penguin colony and seal rookery. As I listened to the nonstop chatter of all these incredible animals, I knew then that South Georgia was an amazing place and we had more fantastic experiences in store for us.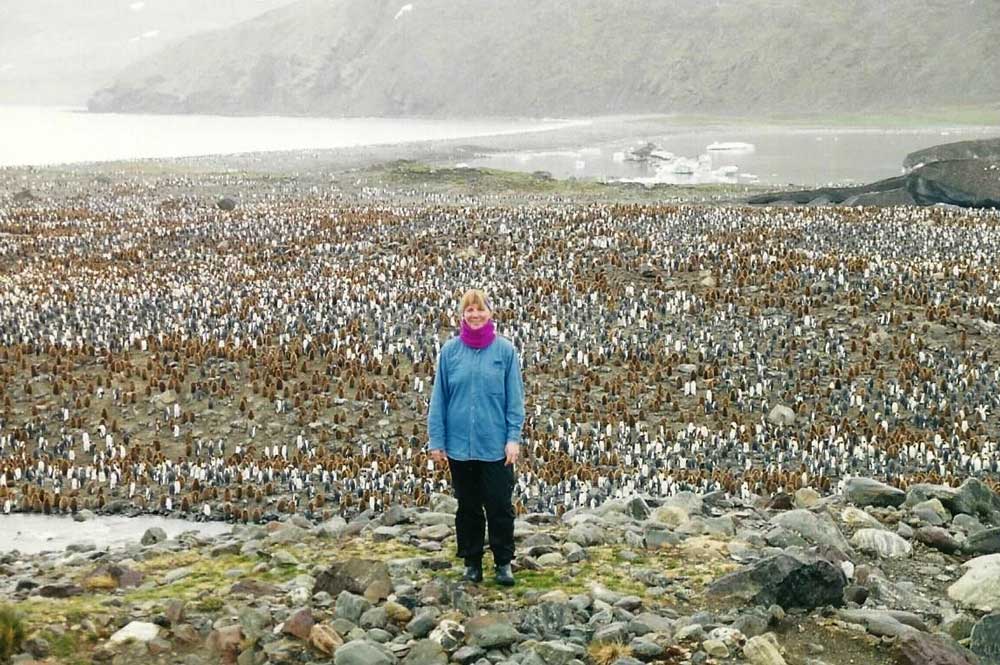 Christmas Eve brought a very special encounter while we anchored at Leith Harbor for dinner. To our surprise Nadia Eckhardt was on another expedition ship also at anchor. It really is a small world!
Christmas morning started with a hike of the fittest – following in the footsteps of Sir Ernest Shackleton which ended at Stomness, a former whaling station. After a well-deserved lunch the ship repositioned off Grytviken and we shuttled to shore in zodiacs once again to see Shackleton's grave where we had a champagne toast!
After dinner on-board we cruised in our zodiacs back to Grytviken, where we had a special Christmas celebration at Whalers Church with a midnight reading and singing of carols. This was a Christmas to remember.
With Antarctica having 24 hours of sunshine during the southern hemisphere summer, we were able to maximize our time off the ship. We made three to four landings per day, weather permitting.
Due to fantastic weather over the next few days, we were able to land at Ferrier Peninsula on Laurie Island, South Orkney and Elephant Island. Once ashore on Laurie Island, we made our way up to the plateau where once again, as far as we could see were adelie, chinstraps and gentoo penguins everywhere! Zodiac cruising around awesome glaciers splattered with pink algae made for more photo opportunities and created a dramatic backdrop at Elephant Island.
The weather again looked incredible outside which made for another successful morning landing at Baily Head on Deception Island. A group of chinstrap penguins was waiting for us at our landing site. Once we were all ashore they hopped in the frigid water for a morning dip. With cameras in hand, we were clicking away and encountered another large colony of chinstraps; only this time, we could see they were busy scurrying around with small stones in their beaks on a mission building their nests! We too had the opportunity to take a dip in the hot springs at Pendulum Cove.
As we cruised along Devil Island on New Year's Eve, we were out on deck looking at the beautiful blue ice formations. As we got closer, to our amazement we saw the adelie penguins come into full sight and they were running crazy around the ice! It was an exciting time for everyone as the anticipation of the millennium was fast approaching. At the stroke of the new century, we welcomed this momentous occasion with champagne toasts all around up on the bridge! During the night, the sound of knocks and thumps on the hull led us to believe we were entering some icy waters.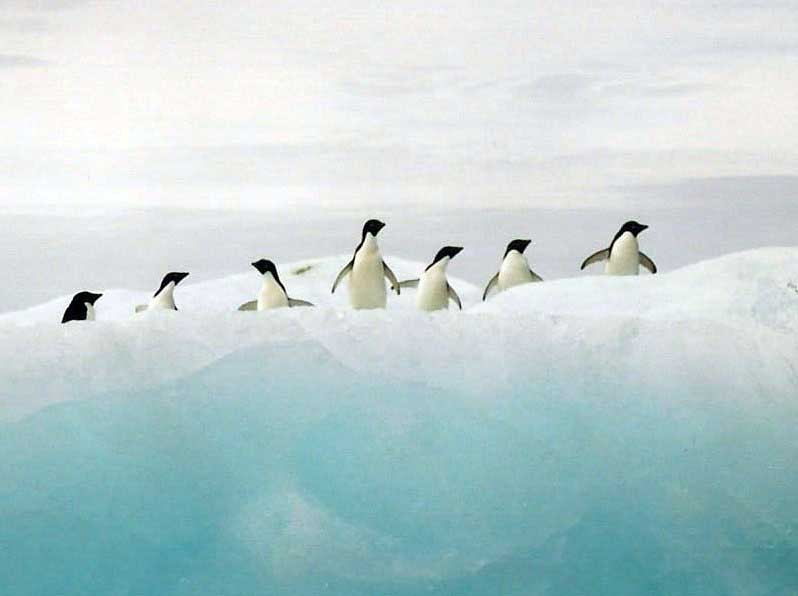 The first day of the millennium we arrived at a rocky Paulet Island covered with adelie penguins. We went ashore via zodiacs and were speechless at the number juvenile furry adelie penguins waiting for us! The hotel department prepared hotdogs and beer for us as we stepped ashore on to the vast white continent.
We continued to cruise the waters of the Antarctic Peninsula and take advantage of the midnight sun and spend time on deck on the lookout for breaching whales, calving icebergs, and blue ice dotted with penguins and seals.
Our crossing of the Drake Passage was referred to as Drake Lake, we were among the lucky to experience such a smooth crossing. Spending as much time out on deck we had the opportunity to see and photograph wandering albatrosses that maneuver over the white capped seas.
Tweet