By Nadia Eckhardt, Africa Easy & Expedition Easy Founder
I have always been fascinated with Cuba. It was a real treat when I first had the opportunity to visit 15 years ago.
In the past year, I've had the pleasure of leading two overland Cuba trips, both starting and ending in Havana – one in October 2014 and one in January 2015.
The Expedition Easy team has been fortunate to travel to this island national a combined four times in 2015. Program Managers Ashley Carver and Lynda Murphy traveled across Cuba this year. When Ashley returned, she said, "It was one of the most fascinating places I've ever been."
No trip is complete without spending a few days and nights in Havana and Trinidad. Both are so unique with amazing architecture, great art museums and Cuban music and dancing.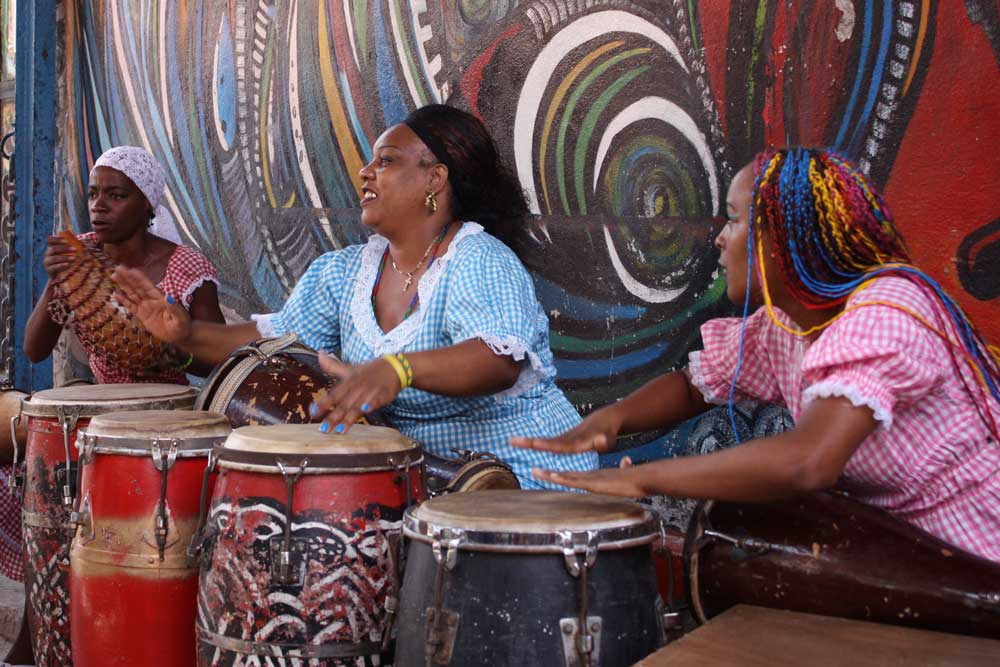 However, there is so much more to Cuba and it is with great excitement that I share what we plan to do on our next private Expedition Easy tour in January 2016. In true expedition spirit, I have made some 'modifications' to the trip.
I feel the changes we have made will greatly enhance the itinerary as it offers more diversity and natural history, as well as a chance to experience the less traveled areas around Eastern Cuba. Our trip is long enough and will allow us to make it all the way overland to Santiago de Cuba!
We will of course spend time enjoying the hustle and bustle, and the must do sightseeing in and around Old Havana, returning to our luxury hotel located on the waterfront!
With our excellent Cuban guide, we will start working our way east and south to the Zapata Wetland region and settle in at our beach accommodation in Playa Largo. I absolutely love this area for birding and nature walks, maybe a chance to swim, and stroll on the beach or a quick snorkel.
Not far away is the Bay of Pigs Museum at Playa Giron and then on to the city of Cienfuegos (with some of the most well-maintained architecture in Cuba), a UNESCO World Heritage Site. A photographer's delight is doing a Cienfuegos walking tour and seeing Jose Marti Park, Terry Theater, Government Palace and the Cathedral.
Our Cuban coach driver, on my trip last January, was quite shocked when I said we might skip Trinidad…he said not only is it a national monument and a UNESCO World Heritage Site, but a chance to do a walking tour on the cobbled streets and really get a feel for the people of Cuba, as well as the marble-paved mansions dating back to when Trinidad was founded in 1514.
"Along streets resonant with the clip-clop of horses' hoofs and the squeaks of bicycles, life moves at a pace from decades past"
– National Geographic Magazine
Of course we did the walking tour of Trinidad and loved it, and that is when I decided it was a must to add a catamaran trip to Caya Iguana. We will pack a picnic lunch and head out into the ocean for a sail and spend time on the island swimming and relaxing.
While enjoying yet another incredible sunset from a restaurant on top of a room, I decided when I next visit Cuba with my Expedition Easy group, we will for sure be heading all the way east via Camaguey (yet another UNESCO World Heritage Site since 2009) after visiting Che's Mausoleum in Santa Clara and on to Santiago de Cuba!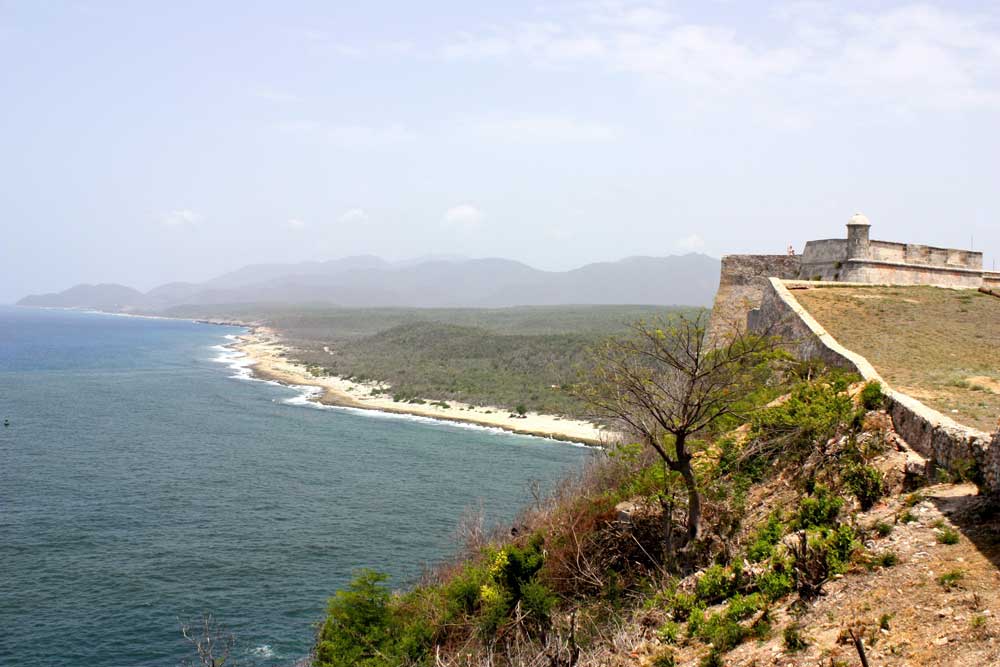 Yes, traveling all the way east from Havana to Santiago de Cuba involves quite a bit of driving, but I know it will be worth it to see much more of the remote and less visited eastern side of Cuba.
My first visit to Cuba was in 2000 and I have never forgotten what a thrill it was (with my Mom who was touring with us at the time too!) to see: The Santiago Cathedral, Casa de Diego Velazquez (the oldest house in Cuba), the famous music hall Casa de la Trova (which has hosted most legendary Cuban musicians).
We will also make time to visit the 2nd oldest museum in the country with a personal collection from Don Emilio Bacardi Moreau. We will have two nights at Melia Santiago and time to explore historic Santiago de Cuba on foot and with our local Cuban guide.
Below is a look at what the new itinerary includes.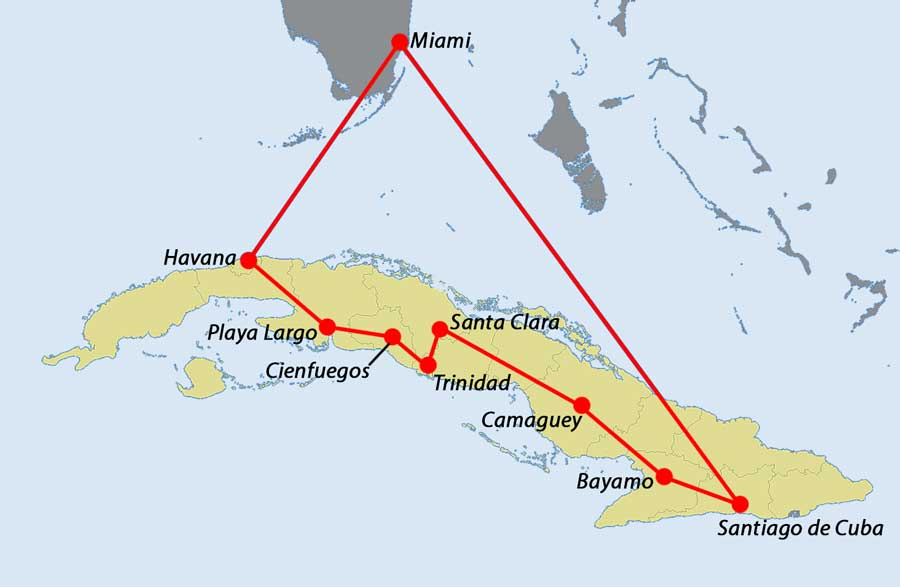 Brief Itinerary:
Day 1: Arrive Miami / Welcome Dinner at Embassy Suites Hotel
Day 2: Fly Miami to Havana and tour Miramar and Revolution Square and Dinner at Café Laurent Paladar
Day 3: Walking Tour Old Havana, Museum of Fine Arts, Dr Carlos Alzugaray Treto talk and dinner
Day 4: Cuban Rum Factory and Cigar experience and an Afro-Cuban cultural center.
Day 5: Drive to Hemingway House and to the Zapata Peninsula. Nature or Beach Walk & Dinner
Day 6: Visit the Bay of Pigs and the city of Cienfuegos (UNESCO World Heritage Site)
Day 7: A walking tour around Trinidad and visit Playa Major and Sanchez Iznaga Family house
Day 8: A Catamaran outing to Cayo Iguana, a lush green tropical paradise surrounded by clear blue waters
Day 9: Visit Che Mausoleum in Santa Clara and on to Camaguey
Day 10: A tricycle tour around Camaguey, a unique city with viewing of well preserved colonial buildings.
Day 11: Trinidad to Bayamo for lunch at La Bodega and then on to Santiago de Cuba
Day 12: Walking tour of historical Santiago de Cuba. Farewell Dinner at a Roof Garden Restaurant & show.
Day 13: Tour Avenidas Las Americas and the Baseball Stadium. Fly in PM from Santiago de Cuba back to Miami
Contact Nadia at Expedition Easy to learn more about Cuba travel and how you can visit this intriguing, one-of-a-kind destination.
Tweet