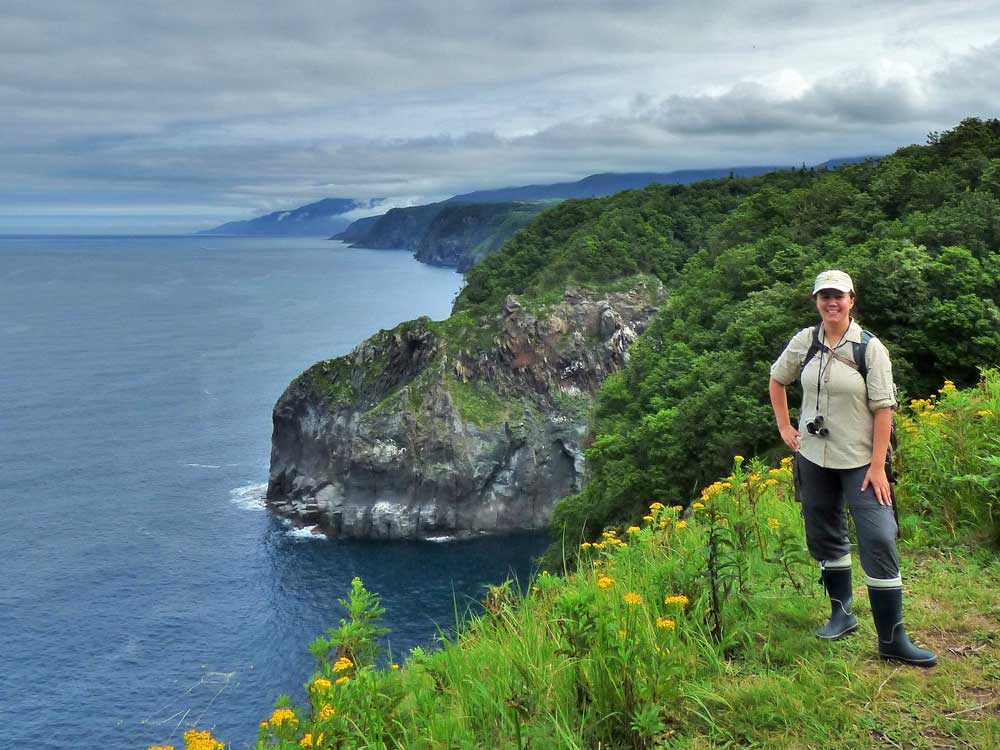 By Leslie Holgate, Expedition Easy
My travel wish list is pages long and continually growing. Every now and then, I'm caught off guard by a destination that slipped my radar. When an opportunity to scout Hokkaido arrived in my inbox this past April, I realized this northern island of Japan had been in my travel blind spot.
I spent the three months before departure reading books like Japan – Culture Smart!, studying up with articles online, and watching videos. I had Japanese dinner nights, too, where I'd practice with chopsticks on dishes from sushi to soba noodles. A two-week trip can extend into months of adventure, with pre-trip discoveries and then a post reflections on photos and memories.
The journey to Japan began with a 10-hour Seattle-to-Tokyo and a two-hour Tokyo-to-Sapporo flight aboard All Nippon Airways. Within an hour aboard, I could see why this Japanese airline regularly ranks in top 10 lists.
In the course of 10 days and 10 nights, I explored from Sapporo to Nemuro on a trip hosted by tourism and city officials across Hokkaido. Below is a map of the general route I covered: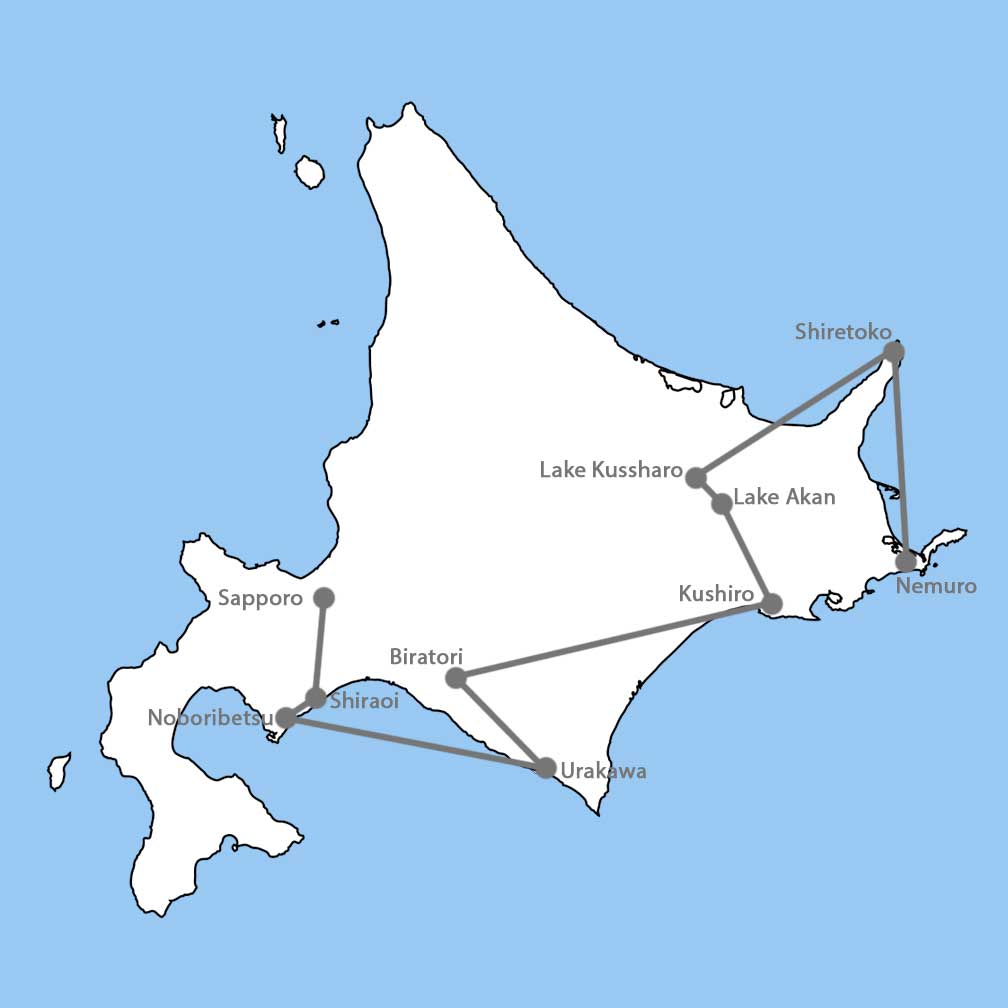 Travel around Hokkaido felt like multiple programs running simultaneously. As a fan of options, like one finds on a Galapagos expedition, I was instantly enthused. A day could include a sunrise hike or a canoe excursion, a relaxing and healthy hot spring, bird watching, a live music and dance performance about Ainu culture, and culinary displays that make you wish for a bigger stomach.
My advice: Pack your bag, a camera, and an appetite.
Nature & Wildlife
Whether canoeing on Lake Akan and the Kushiro River, or hiking in Shikotsu-Toya National Park and Shiretoko National Park (a World Heritage Site), or relaxing with coastal views – nature lovers will be at home.
Travelers on the inaugural Expedition Easy Hokkaido trip in 2015 reported incredible wildlife sightings from brown bear to Blakiston's fish owl. Read the full report from Dr. Mark Brazil, Naturalist guide and leader.
In the spirit of expedition travel, plans can vary with weather and wildlife. This was the case on my visit near Shiretoko National Park, when a brown bear watching cruise was cancelled due to weather and replaced with a waterfall visit and nature walk. I didn't see brown bears that day, but I saw Sitka deer, red foxes, and stunning scenery. Later on travels to Nemuro, I spotted red-crowned cranes and visited several bird-watching hides.
People said I need to visit Hokkaido at least four times – in fall, winter, spring, and summer – to explore in each season with a unique experience. I hope to be back and catch a brown bear cruise next time!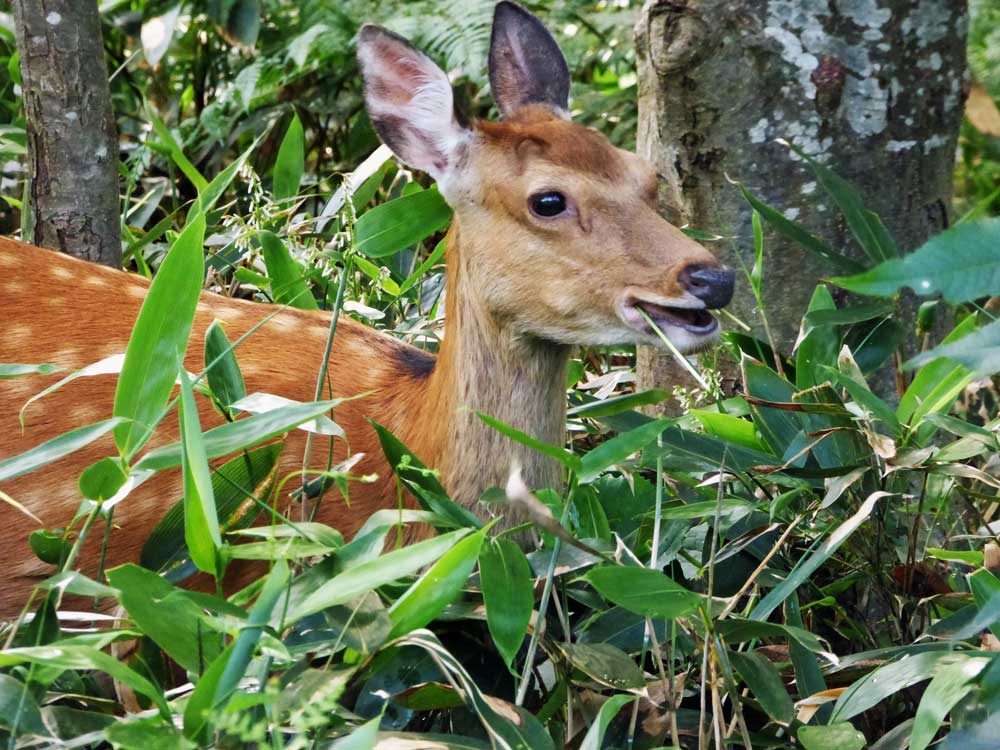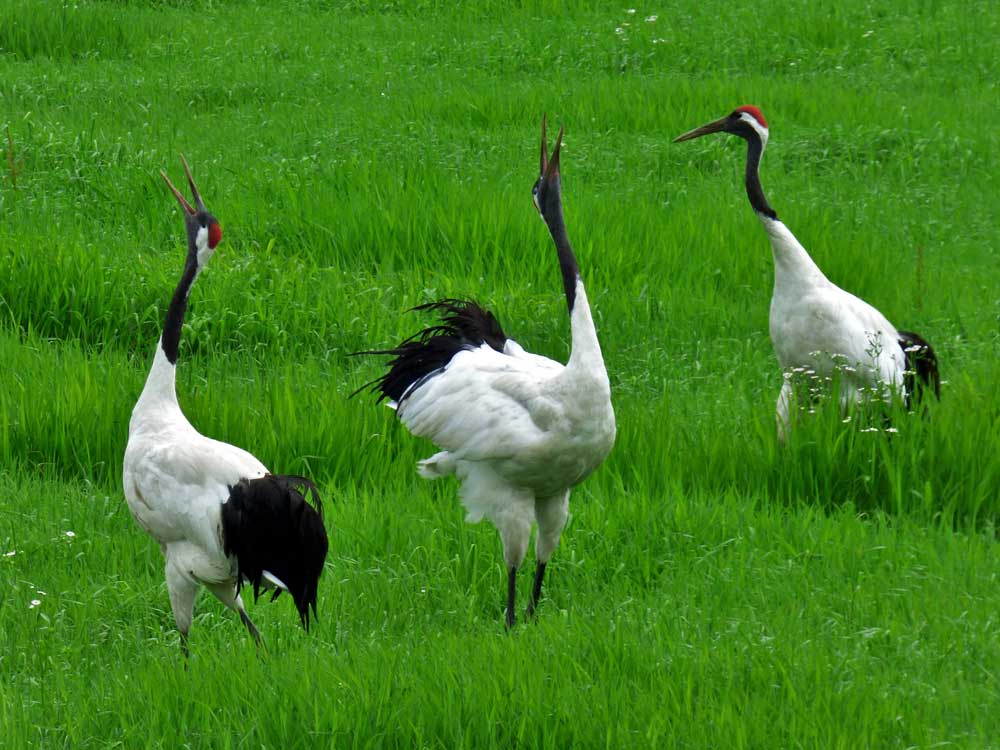 Culinary Adventures
From a café owned and operated by 80+ year-old grandmothers in Shiraoi, to a ramen noodle shop and seafood barbecue in Kushiro, and a private en-suite dinner at Takinoya (a ryokan, Japanese inn) in Noboribetsu – Hokkaido is home to some of the best food on earth.
The night at Takinoya was one of many moments when I found myself thinking, "I wish I could eat more!" When the first course came, I thought, "Delicious. This looks like a good size for dinner." Then, they said there would be five more courses. Each course had an elegant simplicity, yet packed impressive flavors and textures.
Throughout the trip, I underestimated the amount of food served in small dishes. Ten small dishes adds up to a filling meal, with the enjoyment of so much variety.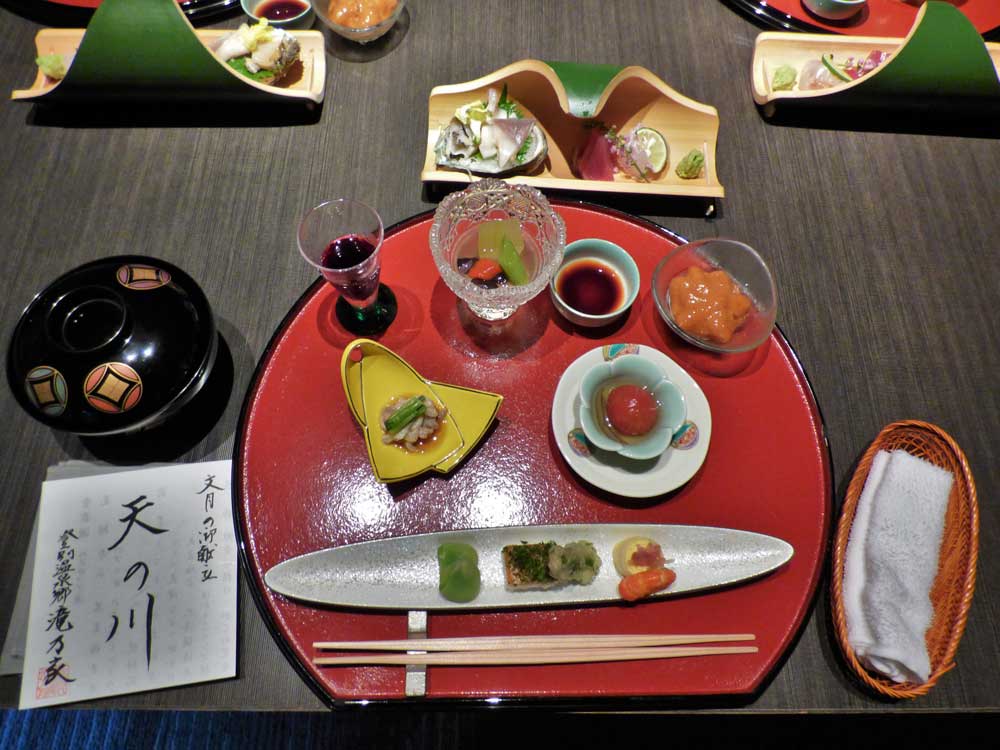 Hot Springs – Japanese Onsen
Time spent enjoying the health and relaxation benefits of hot springs is a significant part of a Japan visit. Coming from Seattle, onsen was new and unfamiliar territory for me. I read up on the hot spring and bathing etiquette before departure.
Japanese onsen was a relaxed and comfortable experience, and all of the hot springs I visited had completely separate areas for women and men. Also, a surprise was I often had the whole public bath to myself! More often than not, I felt like I had a private spa. Depending on the time of day or the place, it was easy to find time alone and some locations had options to reserve an outdoor hot spring privately. Or, in the case of the photo below, taken at Takinoya in Noboribetsu, the hot spring bath was en-suite.
Travelers may find themselves surprised and return with onsen as a highlight of their trip – like I did!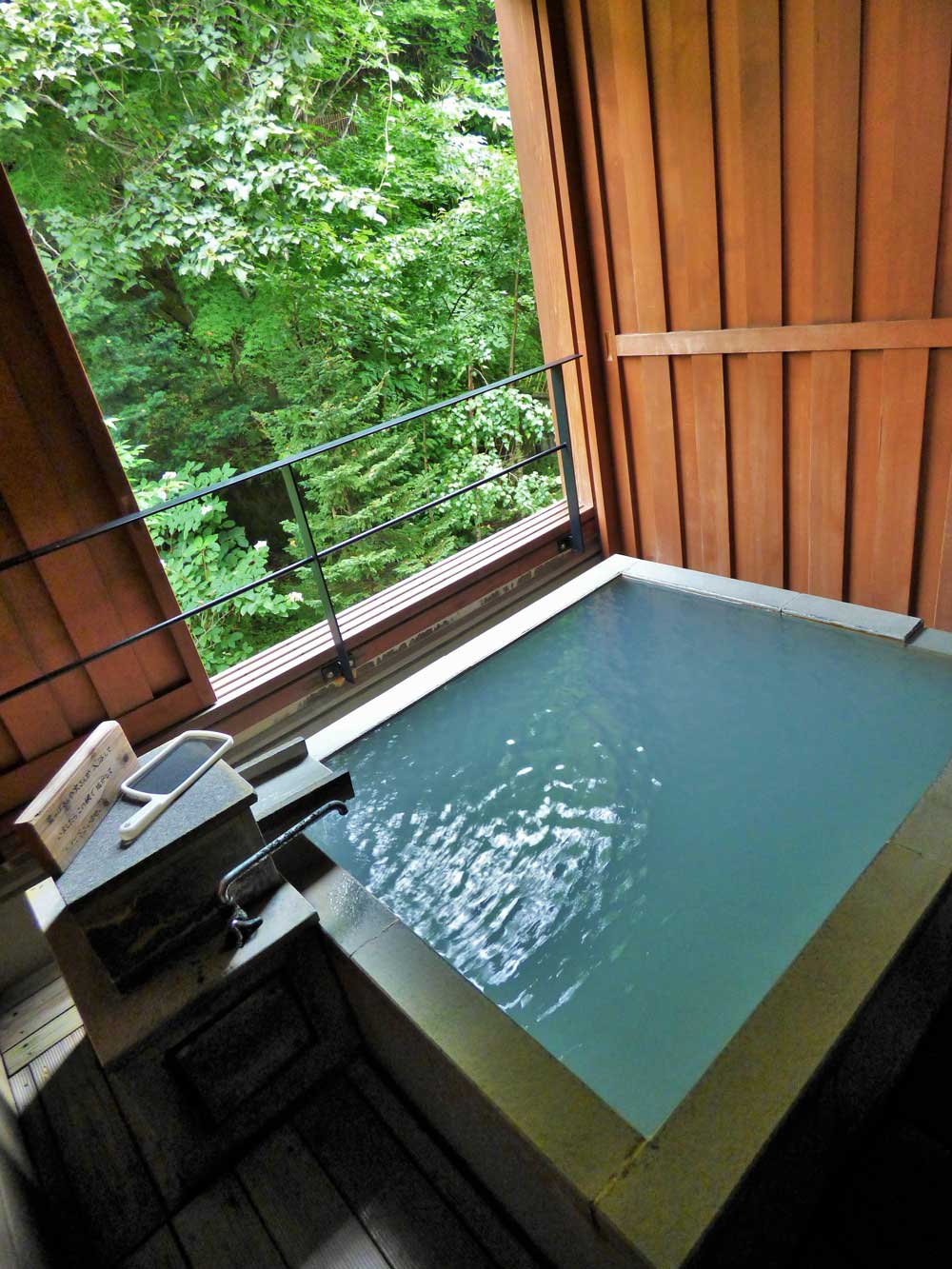 Ainu Culture
The Ainu are an indigenous people in Northern Japan. Across Hokkaido, there are opportunities to learn and engage with local people.
I visited places such as the Shiraoi Ainu Museum and Nibutani Ainu Museum, met with local artcrafters in Biratori and Akan, listened to music lake side (pictured below), and attended an intimate performance at Marukibune Inn in Teshikaga.
Expedition Easy travelers in June also attended the Marukibune performance. This was a highlight of my trip as you see a restaurant area transform in minutes into a professional theater with extraordinary live music and singing.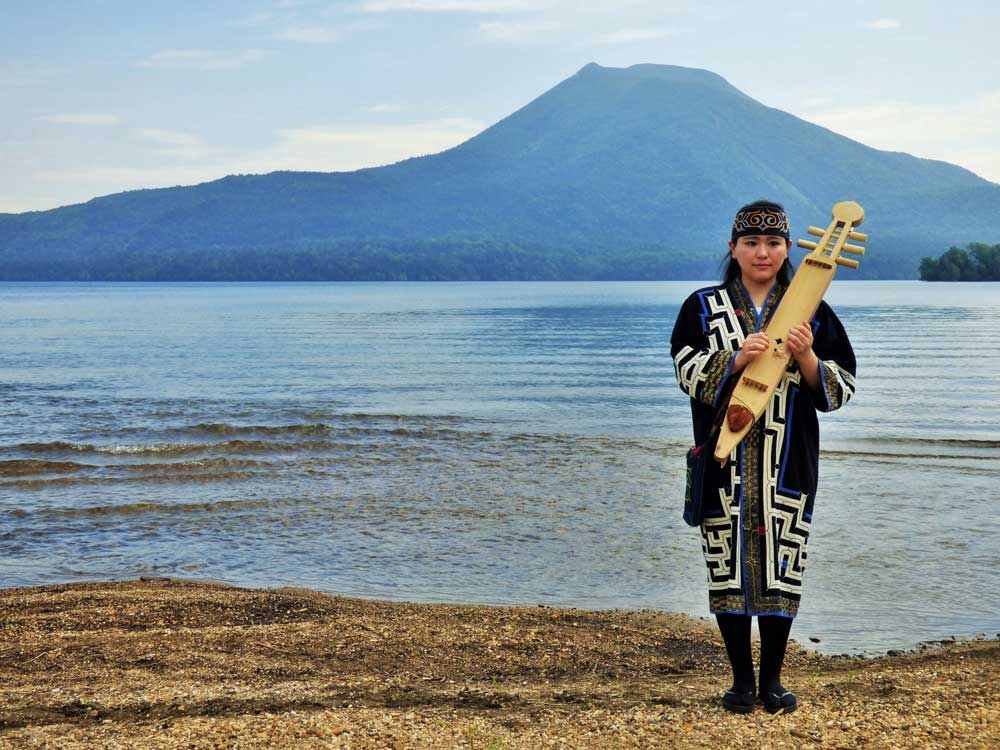 What would you want to see and do on a trip to Japan? Contact Expedition Easy to learn more about upcoming departures and tips on how to best visit.
Tweet